ChatGPT: An educational ally we didn't ask for, but have
How can AI tools like ChatGPT revolutionize the way we learn and teach? What potential do they hold for personalized education?
While AI has vast potential, where do you think its limitations lie? Are there tasks that AI will never be able to perform as well as humans?
Will AI create more opportunities or pose challenges?
To all High School Professors and Directors, this initiative is designed to introduce high school students to the world of Artificial Intelligence (AI), with a special focus on the ChatGPT platform.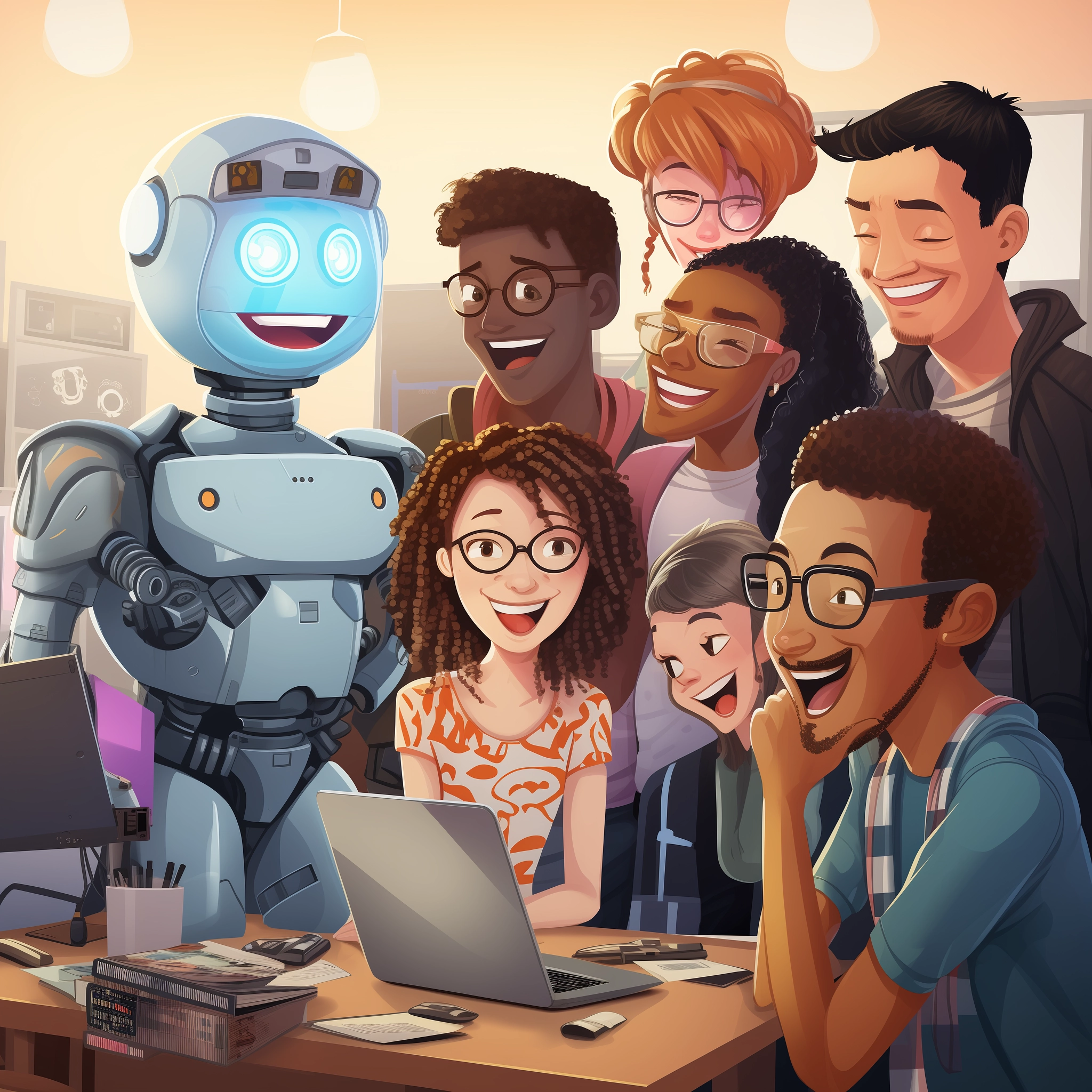 Objectives of the workshop
Our primary objective is to introduce students to AI, offering them a deep understanding of the technology that powers ChatGPT. This includes delving into the scientific concepts of Natural Language Processing (NLP) and the architecture of chatbots. Through this workshop, we aim to foster creativity, critical thinking, innovation, and enhance their coding skills. Part of our mission is to empower students to craft their desired outputs in both writing and compelling narratives. We have designed practical exercises where students can compare code generated by ChatGPT with their own, enabling them to troubleshoot errors effectively. This initiative is especially significant as it encourages a diverse group of students, including girls, to explore AI and NLP, addressing the gender imbalance in the ICT sector, paving the way for a more inclusive future.
A crucial component of our workshop is raising awareness about the ethical considerations associated with AI tools like ChatGPT. While ChatGPT has been praised for its ability to generate detailed and articulate responses, we note that there are concerns about its potential misuse in academic settings. To address these concerns, we argue for responsible and ethical use of ChatGPT focusing on enhancing AI literacy and guiding students in using ChatGPT effectively as an educational tool.

Workshop Highlights
Introduction to AI and ChatGPT: A comprehensive overview of AI, its applications, and an in-depth look at the ChatGPT platform and its capabilities.
Ethical Discussions: Engage in meaningful conversations about the potential applications, ethical considerations, potential risks of using ChatGPT for academic purposes, and limitations of ChatGPT and AI in general.
Hands-on Practice: Students will have the opportunity to:

use ChatGPT for coding, debugging, and understanding best practices in programming

and harness the power of ChatGPT for generating stories, narratives, and other forms of creative writing.
Final Showdown and Reflections: Students will present their final outputs, receive feedback, and reflect on the role of AI in fostering creativity, critical thinking, and innovation.
Exhibition: The students will have the opportunity to interact with ChatGPT-powered human-like-robot and learn about its capabilities.

Details
Period: Half-day workshop scheduled between January – April 2024.
Target Audience: High-school students (15 to 19 years old) from any area of knowledge, including both Arts and Science disciplines.
Duration: 3 hours.
Topic: Ethical and Responsible Integration of ChatGPT in Modern Learning.
Venue: Hosted at participating schools.
Important: Only 5 workshops available – Registration is on a "first come, first served" basis.
To express interest, discuss content customization, or schedule workshop dates, please contact us at sana.nouzri@uni.lu

Organisers
Sana Nouzri received her PhD in Computer Science in 2015 from the Faculty of Science and Technology, University of Cadi Ayyad, Marrakech, Morocco. She also holds a Professional Certification in Artificial Intelligence from the Massachusetts Institute of Technology (MIT). Her main research interest is multi-agent systems and AI systems, and she has published several journal papers on this topic. Between 2015 and 2020, Dr. Nouzri served as an assistant professor at the Faculty of Sciences Semlalia, University of Cadi Ayyad. In September 2020, she joined the University of Luxembourg as a postdoctoral researcher at the AI Robolab. Dr. Nouzri has a special interest in the intersection of AI and art, and AI and education and is passionate about knowledge dissemination. She is responsible for various outreach and dissemination activities including elements of AI courses. Through her research and educational efforts, Dr. Nouzri continues to contribute significantly to the fields of artificial intelligence and education.
Jihad Zahir is an assistant professor within the department of computer science at the Faculty of Sciences Semlalia, Cadi Ayyad University, Marrakesh, Morocco. She holds a PhD degree in computer science and her current research interests are mainly focused on Artificial Intelligence (AI), Natural Language Processing (NLP) and Natural Language Understanding (NLU). She authored or co-authored number of scientific publications. She also co- chaired and contributed in many international scientific conferences and workshops. She received one of Data2X's Big Data for Gender challenge grants.
Funded by: