Skills and Training
The University of Luxembourg offers training courses for doctoral candidates to provide them with:
In-depth knowledge in their field of expertise;
Training of scientific methods;
Academic writing and communication skills;
A greater awareness of ethical issues in research;
Interdisciplinary expertise;
Skills, such as project management and presentation techniques.
Training takes place in small groups to promote knowledge exchange. Doctoral candidates are given the opportunity to engage in a dialogue and receive support from their peers.
ECTS
The acronym ECTS stands for European Credit Transfer and Accumulation System.
You need to acquire 20 ECTS credits during your doctoral studies:
15 ECTS in disciplinary and interdisciplinary courses within your Doctoral School;
5 ECTS in transferable skills courses, including one course in ethics.
Note: 1 ECTS equals approximately 25 working hours (this may include seminars, conferences, etc.)
Please note that each doctoral programme has its own specific policies on ECTS, so make sure you consult the policies related to your doctoral programme to confirm the requirements for your doctoral studies.
Transferable skills training
Transferable skills can be used during your doctoral period but are not directly related to your research; however, they are important for your future career and you can acquire them free of charge at the University of Luxembourg!

The courses organised by the transferable skills team in the Office of Doctoral Studies (BED) include good scientific practice, writing research papers, conference skills, assertiveness, managing your relationship with your Doctoral supervisor, advanced teaching skills, navigating social media, project management, etc.
Find out more
TS Winter semester courses 2023-2024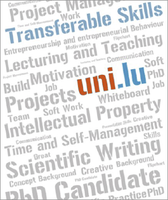 Contact for questions regarding transferable skills courses
How to register
You can request to enrol on a course one month before the course starts.
Doctoral candidates at the University of Luxembourg should register via Moodle.
Registration confirmation is sent by email as soon as the course is full.
Visiting and external doctoral candidates
If there are spaces remaining, transferable skills courses and courses run by doctoral programmes are also available to visiting doctoral candidates and doctoral candidates at the Luxembourg research institutes (LIST, LIH, LISER, MPI & LNS). Learn how to register as an external candidate and access Moodle.
Our Doctoral School Courses (including the Transferable Skills courses) are available on our Moodle platform, which is only reachable by the students / Doctoral Candidates of our University (for security reasons).
To get access to Moodle
Send an email requesting an access to Moodle for TS courses to the TS Team (ts@uni.lu);
TS Team will validate your registration and send you an email with your Moodle logins;
You can then log into Moodle. Please don't forget to log in once in a while.
Register to TS courses on Moodle
Click on Doctoral Education;
Click on Transferable Skills Training; choose the correct semester;
Click on Enrolment request section to access the detailed information of the courses and to fill in an enrolment request form for the chose course;
If you are selected (first come first served basis), you will receive a confirmation email and will be given access to the course.
Register to courses at a Doctoral School
Click on Doctoral Education;
Click on DSEFM, DSHSS, DSSE or DSL
Choose a Doctoral Programme;
Click on List of Courses (if you click for the first time, you are asked to enrol);
Review the courses by clicking on the red PDF button (opens a PDF with a course description)
To register: click on the green registration button;
Click on Answer the questions and follow further instructions.
Learning science communication

Communicating science and research to non-scientific audiences is a transferable skill that becomes ever more important. DESCOM (Doctoral Education in Science COMmunication) is an educational project that helps you learn the basics and gain some hands-on experience in science communication. DESCOM was supported by the Luxembourg National Research Fund (FNR) and aims to support interactions between academia and the public by providing training in science communication. You can improve your skills by making use of below offer:
Learn more details in their dedicated pages