Buddy Programme
Adjusting to university life can be exciting and challenging. As a new student at the University of Luxembourg you may have a lot of questions and concerns during your first weeks on campus.
The Buddy Programme aims to help you have a smooth transition to university and to enable you to make friends and connections easily.
Buddy Guides are current students who volunteer their time to support a new student as they arrive and begin settling in to life in Luxembourg.
More info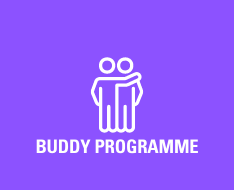 What is the Buddy Programme?
The Buddy System pairs a 2nd or 3rd year student (Buddy Guide) with a first year student (Buddy) to help them settle in to life at the University of Luxembourg.
Get an idea about the offer (and limits) of the programme in our videos:
Buddy Programme explanations (in English)
Buddy Programme explications (en francais)
Buddy Programme Erklärungen (auf Deutsch)
Note: some fields of study have study-specific programmes tailored for their first-year students: if you would like their support, please contact them directly:
What does a Buddy Guide do?
The Buddy Guides are also students and have already experienced their first year at the University. The Buddy Guides know what's what on and off campus. They are there to help and guide you and to make your first months at the University of Luxembourg as welcoming as possible.
Want to join?
If you would like to join the programme as a Buddy or Buddy Guide please join the Buddy System platform! (Caution: registrations are only possible with your @student.uni.lu addresses); note: if you are a regular student (i.e. doing their whole programme studies here, please choose the option "Freemover"). We will send out a call for Buddy Guides at the beginning of the semester, i.e. you will only find a match after your arrival. Please understand that it is not always possible to match you with someone from the same field of study.
For any further questions, contact Claire Lallier or Jimmy Corneille.