The Programme at a glance –
180 ECTS
Duration:

3 years / 6 sem

Teaching Languages:

FR + DE + EN

Admissions:

EU: 1 Feb 2023 – 10 Jul 2023
Non-EU: 1 Feb 2023 – 30 Apr 2023

Fees:

400€/ sem. (semester 1,2)
200€/ sem. (semester 3,4,5,6)

Format:

Full-time programme (Part-time student status allowed)
Presentation
The Bachelor in Medicine enables to acquire basic scientific knowledge, which is essential for the subsequent mastery of the knowledge and skills required for the medical profession. This scientific basis is broad: it includes biology, certain exact sciences and several human and social science disciplines. The fundamental approach to healthy and sick people, including all aspects of semiology, is also tackled.
The Bachelor in Medicine is managed by the Department of Life Sciences and Medicine. Bachelor en Sciences Infirmières est géré par le Département des Sciences de la Vie et de Médecine. The academic team is made up of professors with expertise in medicine, as well as experts in the field with knowledge of care environments in the Grand Duchy.
More info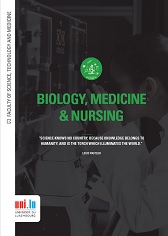 Strenghts
Early medical practice
Students are involved in medical practice from the start of the programme. The Bachelor is developed in close cooperation with hospitals in the Grand Duchy and partner universities abroad. Several internships are organised in the various institutions of Luxembourg.
Innovative pedagogy
This programme uses contemporary pedagogical concepts and the latest digital technologies auch as simulation unit, anatomy room with virtual dissection table, hospital suite.
Excellent learning conditions
The limited number of students in the second and third year provides optimal learning conditions. Students have the opportunity to discuss with the competent doctors of the country as well as with external collaborators and professors of various European universities.
Contact
For any question regarding the Bachelor in Medicine, please send your request to