About the DPhyMS
University of Luxembourg's Department of Physics and Materials Science

Quantum Science & Technology, Statistical Physics & Machine Learning, Computational Physics & Modelling, Soft & Living Matter, Photovoltaics, Sustainable Energy, Spectroscopy & Functional Materials. Through our excellence-driven research, we explore six branches of physics. Our dynamic teams work with prestigious journals and universities and continuously attract national, European, and industry funding.
More info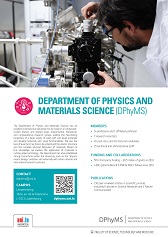 What we stand for
Our mission
The Department of Physics and Materials Science performs fundamental research oriented at the understanding of complex physical phenomena. We are particularly focused on advanced materials, quantum technologies, and biophysics to enable future technological revolutions.

Our vision
Driven by excellence, our department aims to continue attracting world-leading scientists: ERC holders, FNR ATTRACT grantees, editors of prestigious scientific journals, fellows of learned societies, top-cited scientists, etc. By maintaining this sparkling pool of talent as the signature of our department, we continuously contribute to major theoretical and experimental research but also provide a unique experience to our students. We believe the results of our work will unravel future challenges and unlock new solutions.
Our values
Scientific innovation
Every day our curiosity-driven research paves the way to the next scientific innovation. Excellence Our teams are lucky to count impactful and highly cited researchers among them. DPhyMS has been very successful in recruiting high-level international members.
Interdisciplinary research directions
We address complexity by combining the variety of our theoretical and experimental skills, and by collaborating with brilliant minds around the globe.

Sustainability
By studying both materials and living matter, we aim to contribute to a better future, including the necessary energy transitions.
Our team
Looking to positively influence tomorrow's world
Our cutting-edge department includes renowned physicists and chemists from all parts of the world. A passion for advancing science and the frontiers of knowledge permeates our teaching and research. This dynamic atmosphere is supported by regular seminars and the annual DPhyMS Workshop. As elsewhere at Uni.Lu, English is our official working language, but many others can be heard daily.
In numbers
118

post-docs & doctoral candidates

18

technical & admin staff