About the DCS
University of Luxembourg's Department of Computer Science

The DCS investigates and contributes to shaping the information and communication technology-society interface. Our excellence-driven teams communicate in prestigious journals and at international conferences.

Our research covers five orthogonal areas: Big Data; Computational Interaction; Knowledge Discovery & Mining; Knowledge Representation & Reasoning; Parallel Computing & Optimization.

More info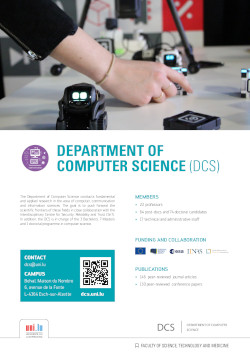 What we stand for
Our mission
The DCS, inspired by industrial and societal challenges, performs pioneering fundamental and applied research in Computer Science. Through our teaching and outreach activities we share our deep understanding of the field with future generations.

Our vision
Our department works toward a society in which technology and information are seamlessly integrated, and where advanced and secure intelligent communications software systems provide functionality for the benefit of people in a more sustainable society.
Our values
Agility: Computer Science is a fast-moving area, where agility is crucial. Our structure interacts with a dynamic environment, continuously providing visible and relevant research.

Broad expertise: The DCS conducts unrestrained interdisciplinary research in multiple areas and believes in the interplay of fundamental and applied approaches when tackling tomorrow's challenges.

Collaborative work: Whether it is to go deeper or broader, the DCS is fully committed to collaboration within and outside uni.lu and Luxembourg.
Our team
Computing the future for the benefit of people and society
The DCS brings together scientists from some 50 countries in an agile and dynamic environment. Our output has been presented in first-quartile journals and at many international conferences.
Our spectrum of training responds to a variety of expectations and meets the needs of Luxembourg's job market.
Our multiple applied projects weave the DCS into Luxembourg's industrial and administrative web.
In numbers
64

post-docs & doctoral candidates

17

technical & admin staff