About the DoE
University of Luxembourg's Department of Engineering

Civil, Environmental, Mechanical, Electrical, Engineering, and Computational Sciences. We explore the full scope of contemporary engineering. Our dynamic interdisciplinary teams work together and teach in seven research areas, focusing on sustainability and digital solutions.
Extensive collaborations with industry and public administrations help researchers and studentscultivate their skills and networks.
More info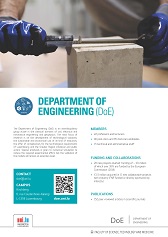 What we stand for
Our mission
The Department of Engineering performs cutting-edge research and provides excellent education, targeting global challenges of particular interest to Luxembourg and beyond. Our mission is to educate brilliant, creative, and adaptable engineers who can be future leaders in their fields.
Our vision
Our department aims to make a substantial contribution to fulfilling the University's and Luxembourg's goals. Moreover, we are aligned with the EU pillars for industrial competitiveness and global challenges. We believe that innovative technological solutions are required to make advances on all these fronts. We want our department to remain a breeding ground for such demanding tasks.
Our values

Innovative and bold mind-set
Our graduates and staff have excellent leadership skills but are also team players sharing a daring attitude focused on innovative actions with potential for implementation.

Vibrant multilingual environment
The DoE provides a vibrant, multilingual, inclusive, and personal environment, which is recognized for its excellent research, innovative ideas, and distinct approach to problem-solving.

Inspiring masterminds
In line with our century-long engineering tradition in Luxembourg, we wish to continue to inspire both students and scientists.
Our team
Traditionally innovative
Building on our long history of engineering, the DoE's cutting-edge research continues to shape the future. Our alumni are the backbone of many leading companies, scientific institutions, and administrations in Luxembourg and worldwide.
Theses' Days and Annual Research Days continuously stimulate interdisciplinarity and innovation. The industrial board guarantees links to Luxembourg's current and future needs.
In numbers
20

professors & lecturers

29

post-docs & doctoral candidates

16

technical & admin staff