Study and Career opportunities
The Master Theaterwissenschaft und Interkulturalität prepares for employment opportunities in the theatre, dramaturgy, cultural agencies or institutions, public relations, cultural management and organisation, project management and festival organisation, theatre review and media relations, cultural services in public/private educational institutions, scientific institutes and universities. Students can also continue their studies at PhD level.
More info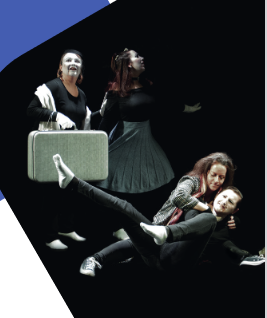 Learning outcomes / Career perspectives
The Master programme prepares students for careers in the world of theatre as well as careers in public and private cultural institutions.
At the end of the programme:
students have acquired comprehensive theoretical and practical knowledge about the theatre and performing arts with an intercultural, interdisciplinary and international focus.
students have developed and deepen their artistic and theoretical expertise.
students acquired the necessary skills to plan, coordinate and execute their own artistic projects.
students are well-connected to the professional world through their internship and the various practical seminars and workshops they have attended during their studies.
Career prospects:
Dramaturgy
Public relation
Cultural management and cultural organization
Project and festival organization
Theater criticism and press work
After completing their studies, students have access to careers in cultural work in public and private educational institutions, scientific institutes and universities.