Course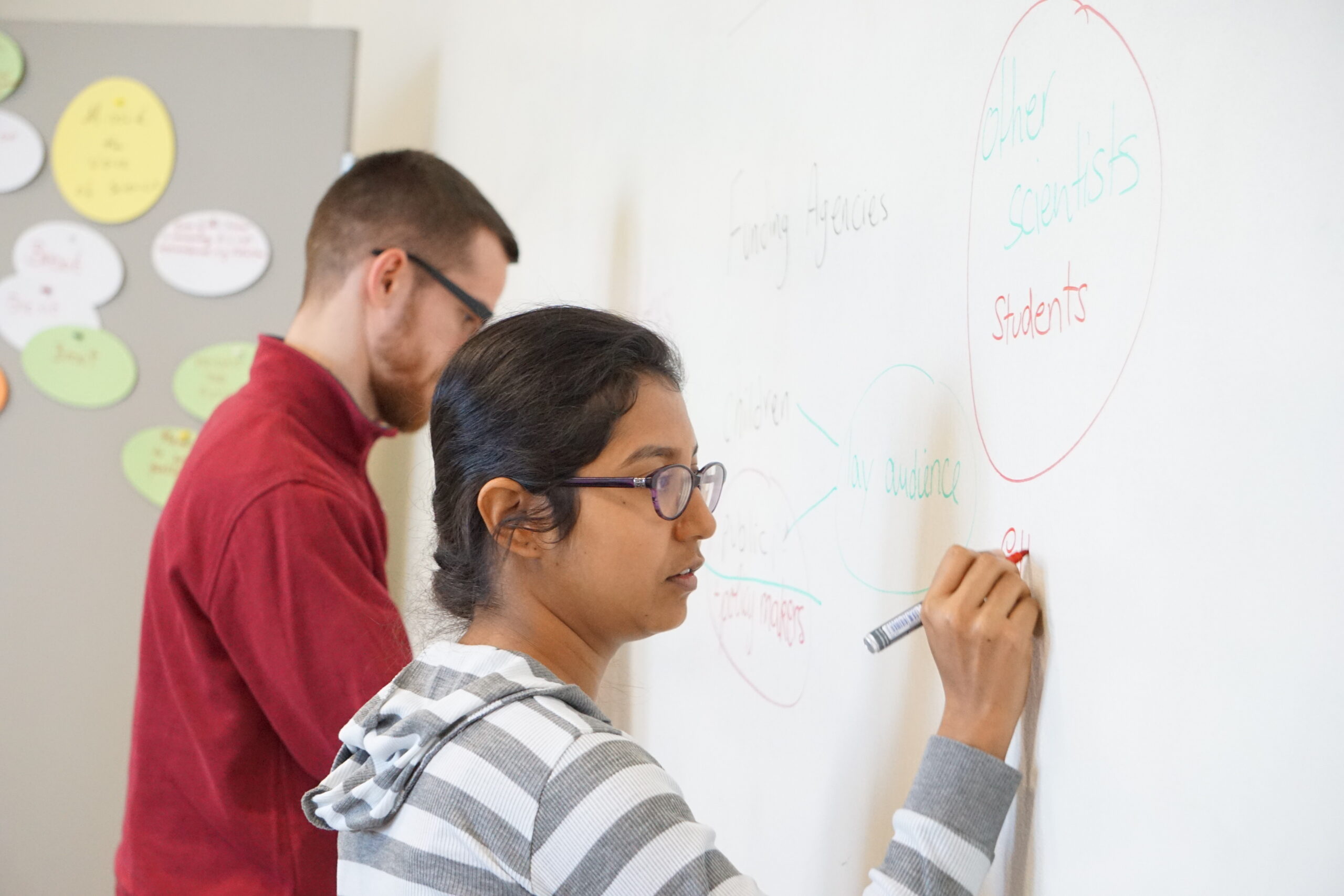 During four days, spread over two block courses (4 days in total, 2 ECTS), this introductory course gives doctoral candidates an understanding of basic concepts of science communication: Who are we communicating to and how do we best reach our audience? What is the science of communication? And what is worth being communicated?

You will also get to know the organizational structures involved as well as different communication tools. You will develop some of the course content interactively (group work), write a press release and even found a new research center. Individually designed assignments will be prepared in groups in between the two block courses.
Topics covered in the Science Communication course
Environment of science communication and general concepts

Overall situation of science
Communication science
Stakeholders of science
Goals of science communication
Structures and organisation of science communication

Institutional communication
The communication
Brand development
Tools of science communication

Web
Social Media
Print
Videos
Events
Personal communication
This course is open to all doctoral candidates of Luxembourg from every research discipline.
"How to best communicate scientific results to other scientists from the same field of research" is NOT a topic of this course.
For this, please refer to other transferable skill courses (e.g., Presentation Skills, Research Article Writing…).
The course is held by Dirk Hans with several other local science communication experts as guests.
The development of the Science Communication Course was supported by the Luxembourg National Research Fund (FNR).
Testimonials
"I liked the alternation between different presenters, between discussion and presentation, tasks and lecture. I liked the relation to practice, to reality that the lecturer constantly ensured. It was always related to practice. I liked meeting the invited speakers, who are practitioners from the field. Seeing and hearing the different perspectives and approaches was enriching. This was a very good course format!"
"The mix between open discussions and presentations by the guests was perfect. Most importantly, the opportunities to engage personally with the guests was very useful for me."
"I like the fact that most students were coming from different background, hence a huge variety of experience to learn from."
"Discovering science communication was interesting, especially the different possible channels usable to communicate, with the different speaker explaining their domain."
"The course was good overall. I feel like I benefited most from the teachings that translated into good practices relevant to an individual researcher who may have to communicate science, without it being his/her main professional activity."
FAQ
The course takes place at least once a year. Check out the Transferable Skills Course program to register for the next edition of this course.
There will be a registration survey that you need to fill out in the registration period.
No.
If you are interested in the course, please register during the registration period communicated in the Transferable skills course program.