About the Department of Mathematics
University of Luxembourg's Department of Mathematics

Algebra & Number Theory, Geometry & Topology, Probability & Stochastic Analysis, Statistics & Data Science, Discrete & Geometric Analysis, DMATH fosters high-level international research in many complementary areas. We enjoy sharing the multiple facets of mathematics locally – through teaching, outreach, public- and private-sector contacts – and internationally, with collaborators across the globe.
More info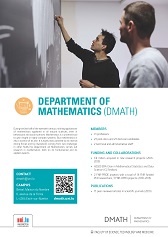 What we stand for
Our mission
DMATH is a strong mathematics department developing excellent research as the common denominator for its many teaching and outreach activities, in line with uni.lu's overall mission.
Our vision
At DMATH, we want to continue to expand our knowledge, inclusiveness, and diversity on all fronts, by making strong contributions to the mathematical universe.
Our values
A bright hub in an international network
Our researchers come from many countries and continuously collaborate with academics all over the world, ensuring that the University of Luxemburg remains a bright and active hub in the global network of mathematics.

To communicate the beauty of and our excitement for mathematics
A dive into mathematics can be thrilling, difficult, frustrating, eye-opening… but it is mostly fun. That's what we believe and aim to convey through all our activities, within the lab, the class, and beyond.

Mathematics without boundaries
Anybody can do mathematics, irrespective of gender, origin, or background. DMATH fights stereotypes whenever we can, for example with our Girls Exploring Math initiative. Our mathematics programmes, Math Camp and Math Forge, help all students at the University of Luxemburg to develop their skills.
Our team
Creators and communicators in the art of mathematics
DMATH develops cutting-edge research that filters down to students at the University of Luxembourg, whatever their discipline, and to Luxembourg as a whole. Our creativity is stimulated by interdisciplinary contacts and regular seminars, such as the Multiplicities seminars celebrating the diversity of mathematics and mathematicians. Our team members' diverse origins widen our perspectives and enrich our teaching methods.
In numbers
28

post-docs & research scientists

2

technical & admin staff