About the DLSM
University of Luxembourg's Department of Life Sciences & Medicine

As an active partner in Luxembourg's health network, the DLSM trains the country's future biologists, physicians, and specialised nurses. In addition, we conduct research in several areas: Signal Transduction, Cancer Cell Biology & Drug Discovery, Systems Biology, Molecular Disease Mechanisms, and Nursing Sciences. Our researchers attract national and EU funding and contribute to top-tier scientific journals.
More info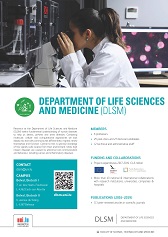 What we stand for
Our mission
The Department of Life Sciences and Medicine's key mission is to meet the needs of the country, by training highly skilled graduates who will play a leading role in society, and to improve health through research, education, and clinical practice.
Our vision
DLSM's ambition is to continuously provide Luxembourg with a next generation of outstanding scientists and health professionals. By developing ground-breaking health sciences research, we constantly expand our local and global network of collaborators.
Our values
"Multi-Culti"
DLSM is intrinsically multicultural. This starts with the international origins of both students and staff – as for the rest of uni.lu –, and extends to several multinational diplomas, but we give it a further multidimensional spin. To actively build an open-minded atmosphere, we apply an open-door policy and encourage students to engage with other departments or study abroad. To push traditional interdisciplinarity a step further, we bring future health professionals together early in their training.
Committed to ethics
To provide Luxembourg with health professionals and researchers trained to the highest standards, the curricula at DLSM also include ethics.
Active in outreach
Our expertise is ideally suited to outreach activities engaging the general public. In the past we have organised events linked to palliative medicine, ethics, inclusion and diversity in health care, raising awareness of colon and other cancers, and participated in the LUX:plorations science-comic initiative.
Our team
Committed to health through excellence in teaching, research, and outreach
DLSM reflects the ethos of the University of Luxembourg's Belval campus. Multicultural, multilingual, and interdisciplinary, our team is united in its research, educational, and outreach commitments. Shared equipment and core facilities, regular seminars, and group meetings reinforce networking. This enhances the quality and the productivity of our research, which is regularly published in high-ranking peer-reviewed journals.
In numbers
30

post-docs & research scientists

19

technical & admin staff