The University of Luxembourg's Interdisciplinary Centre for Security, Reliability and Trust (SnT) and Gulliver, a tech company based in Luxembourg and Italy, today announced, in the presence of the representatives of Italian Chamber of Commerce for Luxembourg and the Italian Embassy in Luxembourg, a partnership to develop an artificial intelligence (AI) based solution for sustainable logistics planning.
The European Climate Foundation estimated that heavy-duty trucking contributes 22% of all EU road transport emissions, while making up less than 5% of the vehicles on the road. With their forecast of the sector further growing its emissions output by 10% by 2030, efforts to support the sustainable transition of this industry are crucial today.
The solution that Gulliver and SnT will be researching is focused on helping logistics companies to reduce their impact on the environment by maximising their route planning for operations such as deliveries and pick-ups. Currently route planning is conducted manually and requires collecting multiple different data points, like how many deliveries need to be made, how big a truck is, what time customers are likely to be at the address to receive the delivery, and the route of the truck, etc. By analysing these requirements, the solution will create a plan that optimises efficiency and minimises emissions.
To illustrate, over time the AI system should be able to predict the availability of a customer, avoiding emissions output from unsuccessful drop-off trips. It will also be able to create routes that minimise emissions output.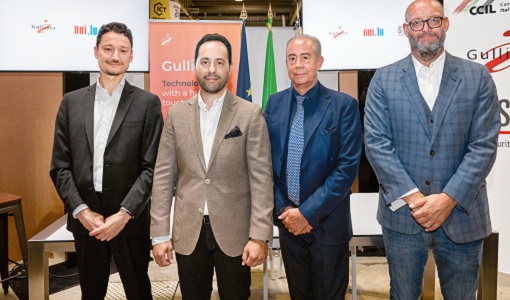 From left to right: Danilo D'Aversa, director general of Gulliver in Luxembourg, José Soares, partnership development officer at SnT, Giuseppe Capoferri, CEO of Gulliver and Carlo Duprel, head of technology transfer and partnerships at SnT.
"Our collaboration with Gulliver represents a major step towards integrating sustainability into the core of transportation systems," said Prof. Radu State, principal investigator of the project at SnT. "By combining advanced algorithms and real-world data, we can help companies with the most efficient solution, minimising both time and environmental impact."
"This collaboration exemplifies SnT's commitment to driving impactful research and innovation that addresses real-world challenges," said Prof. Björn Ottersten, director of SnT. "By working with Gulliver, we can make significant progress in optimising logistics operations while reducing their environmental footprint."
"Our partnership with SnT aligns with our mission to provide advanced technology solutions that prioritise sustainability," said Giuseppe Capoferri, CEO of Gulliver. "By developing a solution that considers environmental factors and enables efficient solutions, we contribute to a more sustainable and resilient logistics ecosystem."
As part of the collaboration, four researchers from SnT will work closely with Gulliver's team at the Tomorrow Street incubator in Luxembourg. "Luxembourg is a leading logistics hub with a culture that is focused on innovation, so it was a natural fit to set-up an arm of our company here," said Danilo D'Aversa, general manager of Gulliver in Luxembourg. "Finding a partner in SnT, that can support our goals of providing cutting-edge sustainable solutions is advantageous."
© University of Luxembourg