Gazengel by Aliénor Gandanger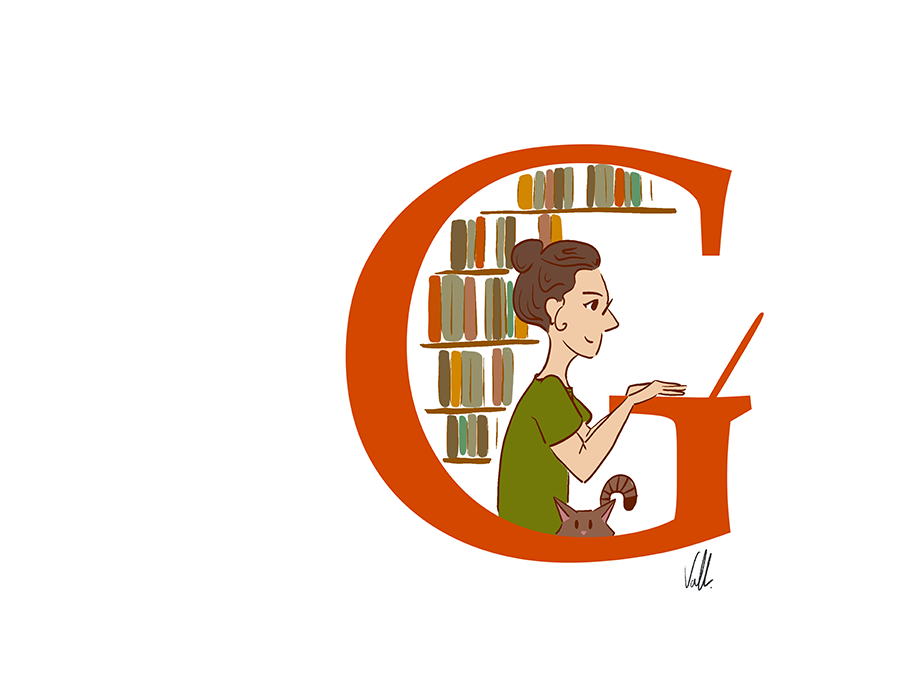 Welcome behind the scenes of Gazengel! Each monthly episode offers a glimpse into the life of a PhD student from a new angle.
Presentation
The concept and character of Gazengel came from a desire to share a unique experience: what it's really like to be a PhD student. The first episodes, published via the Instagram account @lespapotages_de_Gazengel, featured anecdotes and reflections linked to the daily experiences of the heroine, Gazengel. What's it like to visit an archive? What's the best way to explain your PhD topic? Where did the idea come from? How does it make you feel when you come across a rare find in the archives? How do you manage the workload and deal with moments of extreme fatigue? The character, depicted in a light, delicate hand, is never seen without her faithful sidekick, her cat, whose name is revealed in season 3 as Benziglout. The duo bounce off each other, spicing up what would otherwise be a monologue and making it possible to ask interesting or surprising questions.
A life before the C²DH
For nearly a year, the papotages team produced two episodes each month, developing a small following from the initial interest shown by friends and family. As well as anecdotes about life as a researcher, in some episodes Gazengel is accompanied by other PhD students, archivists or artists. For although a PhD is a solitary pursuit, it also provides opportunities to meet new people and catch up with old acquaintances. In summer 2022, Gazengel went on holiday and Yvonne Fleury took her place. Yvonne, presented in two episodes and mentioned many times in Gazengel's stories, was a war godmother whose life story was studied in detail as part of a research master's in Caen and Louvain-la-Neuve from October 2018 to September 2020. She holds a special place in Gazengel's heart, as she was the first war godmother to play a central part in her research. In conversations with the community via the stories, many people expressed an interest in finding out more about Yvonne. So the team decided to present six short accounts from six "godsons". The aim was to delve into each relationship and find out more about how women showed solidarity with soldiers in wartime. These episodes were in colour rather than black and white, and instead of my own texts they featured extracts from letters and diaries. The episodes are all still available via Instagram.
So far so good. What next?
The writer and illustrator had set themselves the goal of keeping going for one year. With no funding, and with many other activities vying for their time, they knew that they wouldn't be able to carry on for longer without a more stable business model. But just as they were drawing things to a close, the concept of Gazengel began to elicit interest among the university community. So in February 2023, Gazengel was given a new lease of life, this time in colour and in cartoon form. A Thinkering Grant made it possible to produce 14 new episodes, nine of which would be funded. The aim this time was to look back at milestones in the researcher's life before her PhD: her Master's in Public History, her internship in a large company, the search for a Master's/PhD supervisor, moving house, the implications of a cotutelle PhD… and then her first day at the C²DH and all the experiences that followed. The illustration style was clarified, and the colour scheme used from the beginning stayed the same. Most importantly of all, the new episodes would give followers the chance to catch up with the Gazengel/Benziglout double act.
C²DH, Gazengel & co.
Previously restricted to an Instagram format, the papotages team wanted to explore the potential of comic strips. The first attempt was published on 6 July 2023. Gazengel is keen to stick with this new format as it offers more freedom. Within the C²DH, over the winter, an episode will be produced each month and published on the University of Luxembourg website. The hope is that the episodes will be successful and resonate with other researchers. The aim of season 3 of the Gazengel project is to offer lively episodes that tell an authentic story, under the cover of fiction (otherwise there would be no cat), which give rise to further encounters and reflections. The basic premise remains the same: to go behind the scenes of a young researcher and explore the various facets of her academic and creative adventures.
Who is behind Gazengel?
Gazengel is just a small step away from Gandanger, over the centuries. By playing with the letters in my surname, I also wanted to play with history and illustration. I am Aliénor Gandanger, a PhD student since 2021 at the University of Caen (France) and the University of Luxembourg. My PhD topic explores how research findings can be portrayed through comics. The historical focus of my research is godmothers during the First World War, a subject that I began investigating during my two-year research master's at the University of Caen. The challenge of this PhD project is to produce new research that explores questions of women and gender, while also setting out the key stages in the development of a comic book: the creation of characters and a story, the fictional dimension and the use of archives, and the combined expertise of an illustrator and a researcher. Mazette!
Episodes
Discover a new episode each month!