Overview
The library provides access to journals in the disciplines covered by research and teaching at the University, whether in the humanities and social sciences, science and technology, medicine, etc.
The library currently favors electronic journal subscriptions. The majority of our collections are therefore online. However, a proportion of subscriptions still concern paper journals. We have around 250 subscriptions to paper journals to meet the needs of our users.
Current subscriptions are in self-access (the last 5 years) and are referenced in the a-z catalog.
On a-z.lu, enter the title of the journal in the search bar.
In the column on the right, filter results by resource. Choose "Type of publication", then "journals".
If the filter does not appear, this means that none of the results are journals.
Once you've found the journal you're looking for, click on "Check the holdings". The phrase "May be available" can appear in the localisation. This does not mean that we do not have the issue you are looking for.

To find out which issue we do have, please click on the localisation and check the dates mentioned in Summary holdings.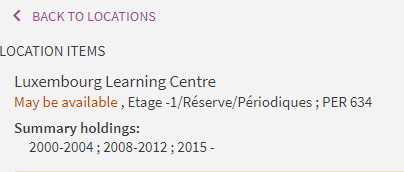 Issues from the 5 last years are located and accessible on the journal display shelves. Journals are classified by subject and then alphabetically by title.
Issues from years prior to the last 5 years,
Please send a request to Askalibrarian@uni.lu with your name, your library user number (k-1234567) and the journal title, volume, year, number/issue. (your request will be processed within 24 hours).
[please fill out the online form-COMING SOON]
Journals can only be consulted at the library and cannot be borrowed.
Photocopiers and scanners are available if you wish to copy individual journal articles.