The University of Luxembourg participates in the national event Portes Ouvertes Luxembourg on 17 September 2023. Visit us from 10:00 to 18:00 on Kirchberg campus and celebrate with us the 20th anniversary of the University!

During your visit, you will have the opportunity to explore scientific research, watch amazing experiences and impressive demos, exchange with top-level researchers and students. You will be able to play with drones, understand how a train can levitate, build your own spectrometer, learn more about wastewater treatment, test small satellites, discover 3D printing, interact with robot dogs, experience zero gravity and much more…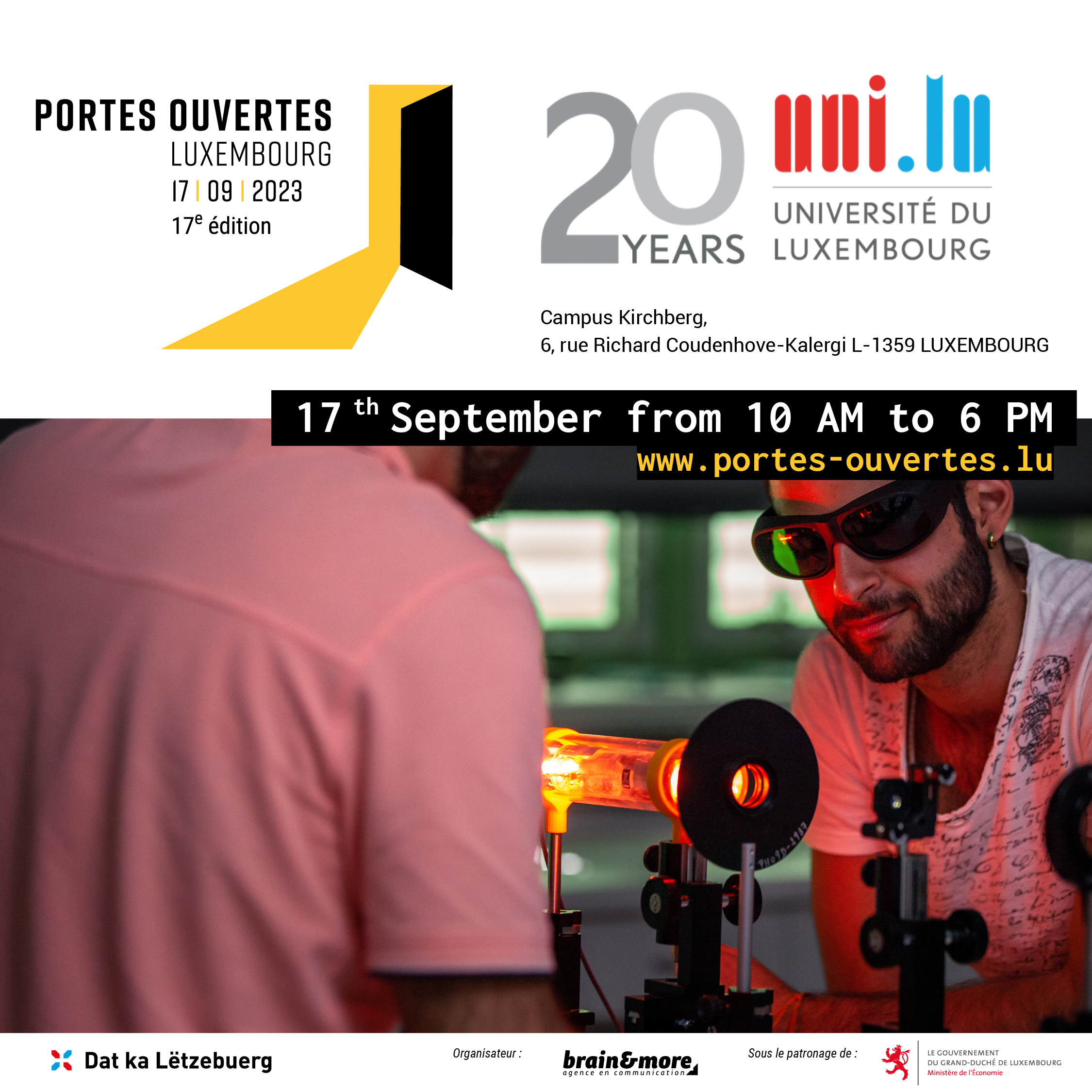 The following workshops will be offered:
3D printing: watch 3D printers in action for development and optimisation of objects.
Heaps of sand: by studying the shape of sand heaps or other granular material, you will understand physical mechanisms.
Industrial laser: learn the principles of laser welding and laser ablation work. Have your favourite cartoon image engraved on a small steel sample.
Interactive expanded vision: build your own spectrometer to split light and see the fingerprints of different gases.
Magnetic levitation: using a train made of a superconducting material, you will learn the phenomenon of magnetic levitation.
Miniaturized satellites: discover where students and researchers build and test small satellites.
Play with robots: Make industrial, collaborative and mobile robots move.
Service robots: experience robot dogs and drones in this testing arena for robotics.
Smart mobility solutions: sneak a peek at our self-driving car, the very first autonomous car driven on Luxembourgish roads.
Walk on the Moon: discover the LunaLab, a lab that simulates conditions on the Moon for testing lunar robots.
Zero gravity: visit an environment without gravity! Our researchers test the movement of robotics, satellites and other spacecraft in this lab.
Digital earth: discover how to use global navigation satellite system (GNSS), drones, 3D modelling and artificial intelligence to view the Earth in a digital format.
Wastewater treatment: understand how wastewater can become valuable source.
Comic book character: let's create your own comic character!

Enjoy an unforgettable experience and become a researcher for a day!
More information: portesouvertes.lu