Four students from the university's Department of Economics and Management (DEM) and Department of Finance (DF) were presented with the prestigious Jane M. Klausman Women in Business Scholarship on Thursday, 9 December 2021 during a ceremony and networking cocktail at the University of Luxembourg. Over 40 attendees including representatives from the international service club Zonta, FDEF professors, laureates and their family and friends attended the event.
Skerdilajda Zanaj, Associate Professor within the Department of Economics and Management (DEM) and the Unversity of Luxembourg Gender Equality Officer, welcomed all participants. Having initiated and facilitated the contact between the faculty and the Zonta organisation, Prof. Zanaj spoke further about future opportunities for partnership. Ms. Florence Fischer, director of Zonta International then presented the organisation whose mission is to empower women worldwide through service and advocacy. "Zonta envisages a world in which women's rights are human rights," said Ms. Fischer.
The Zonta vision operates under two pillars: giving direct support to women in need through fundraising and volunteering initiatives and promoting the education of women and girls through scholarship and fellowship opportunities. Zonta offers four separate programmes including the Amelia Earhart Fellowship for women pursuing Ph.D/doctoral degrees in aerospace engineering and space sciences, the Women in technology Scholarship for women pursuing higher education in IT, the Young Women in Public Affairs award, rewarding leadership skills and commitment to public service and civic causes for young women aged 16-19 and finally, the Jane M. Klausman Women in Business Scholarship, presented by Dr. Kerstin Wagner of Zonta Reunis Luxembourg.
The Jane M. Klausman Women in Business Scholarship "helps women pursue undergraduate and master's degrees in business management and overcome gender barriers from the classroom to the boardroom." Since the programme's inception, Zonta has awarded 640 scholarships, totaling more than US$1.5 million, to 492 women representing 58 countries (source: zonta.org).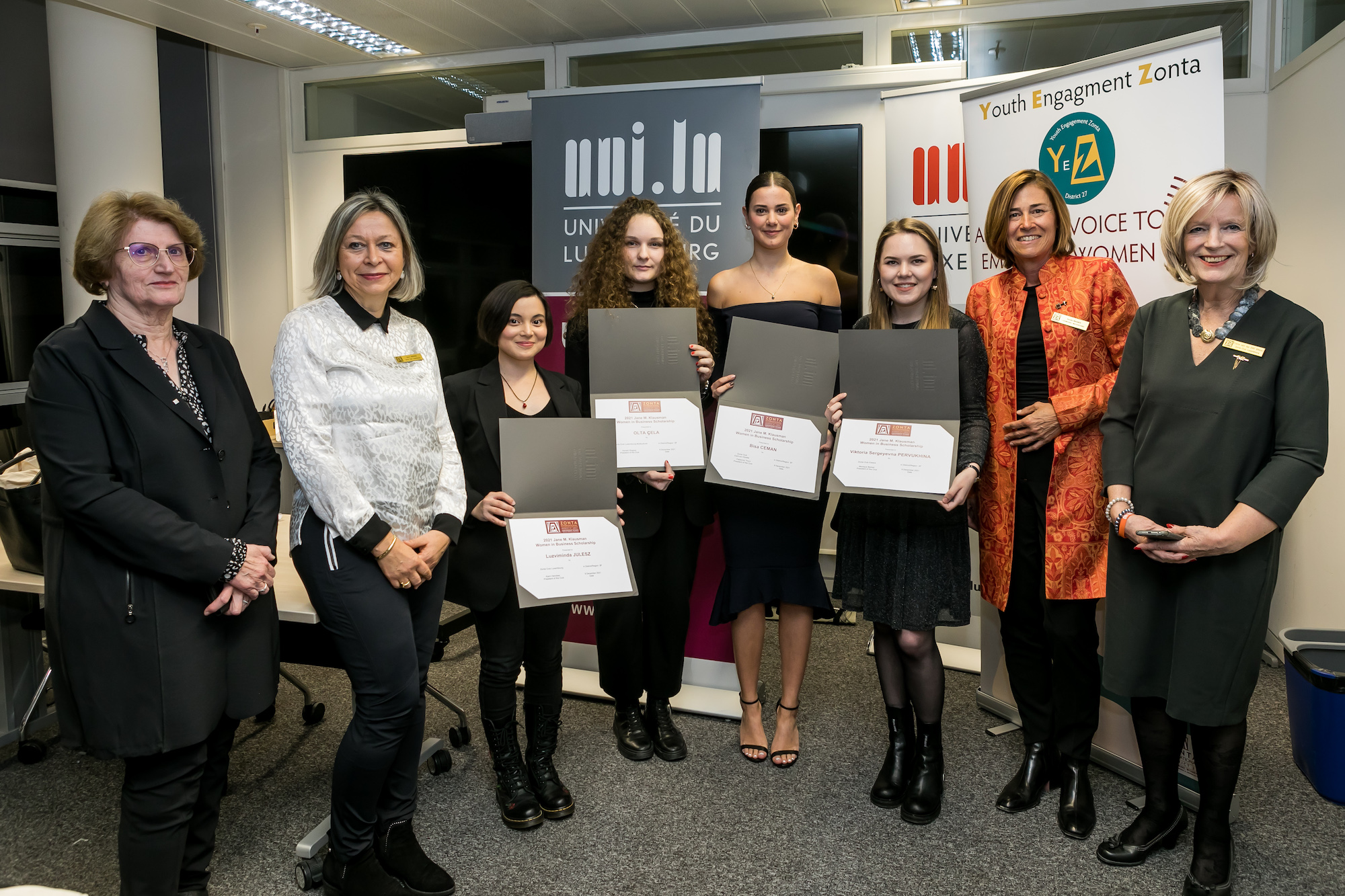 The four students to receive the prize are, Luzviminda Julesz, Viktoria Pervukhina, Olta Cela and Bisa Ceman. 
Luzviminda Julesz, who is pursuing a Master in Wealth Management after completing a Bachelor en Sciences Economiques et de Gestion at the University of Luxembourg accepted her award by saying that while significant progress has been made for women in the corporate world, there is still room to improve.
Viktoria Pervukhina, a student within the Master of Science in Finance and Economics, spoke about her eye-opening experience at her host University in South Korea during her mobility semester where there were no female professors in the Economic Department. She said that this experience raised her awareness of gender inequality in the field.
Olta Cela is in her second year of the Master in Accounting and Audit programme. Collecting her award, she spoke about her personal experience in her home country of Albania, where society is male dominated. She characterised the award as being a "great motivation and push" for the remainder of her studies.
Bisa Ceman, second year student in the Financial Economics track of the Master of Science in Finance and Economics, also evoked the gender inequalities in her home country of Montenegro where the participation of women in the labour force hovers around a very low 30%. "I am breaking a cycle of stereotypes," Ms. Ceman declared. She also expressed gratitude for the opportunity to study in Luxembourg. "I have the chance to be in a country where gender inequality is less," said Ms. Ceman.
More information about Zonta International can be found on their website, www.zonta.org.