ArcelorMittal Chair of Steel Construction
The University of Luxembourg and ArcelorMittal have agreed to continue their collaboration in steel construction and engineering research. The agreement was signed on 18 October 2019 by the University's Chairman of the Board of Governors, Yves Elsen, Rector Stéphane Pallage, and by Michel Wurth and Valérie Massin, respectively Chairman and Country Manager of ArcelorMittal Luxembourg. Since 2010, the company has supported the ArcelorMittal Chair of Steel Construction with a total of more than 1.6 million euros.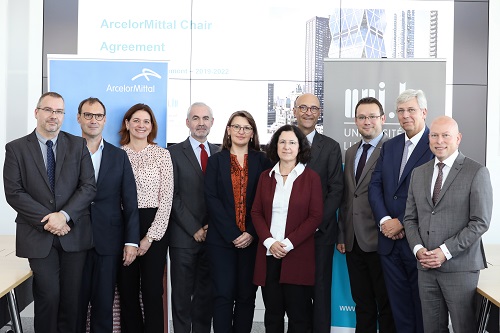 From left: Serge Haan, Jens Kreisel, Valérie Massin, Christoph Odenbreit, Renata Obiala, Berta Rato, Michel Wurth, Olivier Vassart, Yves Elsen, Stéphane Pallage
High tech structures, high strength steels and green construction
The funding will allow chairholder Christoph Odenbreit, Professor within the Research Unit in Engineering Sciences (RUES), to pursue his research dedicated to making steel construction more efficient and sustainable. The research unit operates a laboratory at Kirchberg Campus that evaluates the properties of building components and materials. "One of our main focus areas for the next three years will be to further enable a circular economy approach for steel construction components. This would significantly improve the carbon footprint of the building sector," Prof. Dr.-Ing. Christoph Odenbreit explains.
Amongst others, the ArcelorMittal Chair of Steel Construction will work on a modular system of steel beams and connectors that would allow for the dismantling and reuse of those parts once a building has reached the end of its life cycle. This requires research in different fields: the design of the modular components that need to meet certain bearing capacity requirements, a push for standardisation of construction parts, and the development of digital tools to store the history and technical specifications of each individual component. "In principle, steel beams do not have a limited life span. You can reuse them after 30 years and they have the same properties as on the first day, if they are treated correctly," says Odenbreit. "But for insurance and security reasons, it is essential to know the exact history of each component. For a building consisting of 4,000 steel beams, you need comprehensive and standardised databases."
"It is essential for ArcelorMittal to capitalise on this fruitful collaboration with Prof. Odenbreit's first-class research teams as it feeds our own thoughts to imagine the construction of tomorrow. Our new Steligence® concept, a holistic approach that shapes the next generation of high-performance buildings and construction techniques, leading to a more sustainable life cycle for buildings, has benefited from this wholesome emulation. This collaboration with the University is also an opportunity for us to identify the young talents who will join us tomorrow," says Prof. Olivier Vassart, Chief Executive Officer Steligence® at ArcelorMittal.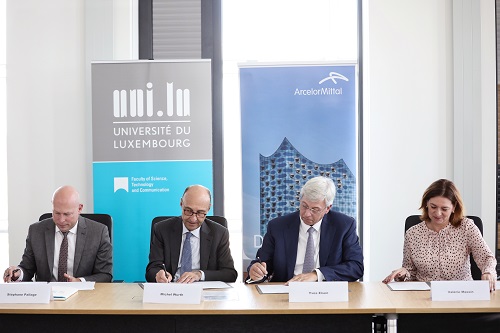 Second renewal of collaboration
This is the second extension of the collaboration between ArcelorMittal and the University since 2010. The focus on a circular economy approach could create new business models for steel producers and processors, including leasing the components to construction companies and reusing them after the buildings are decommissioned.
"We are very proud that the world's largest steel company has chosen to prolong the successful cooperation initiated in 2010. This is testament to the excellent work of Christoph Odenbreit and his team, who have created a strong bridge between the university and industry," comments Rector Stéphane Pallage.
"ArcelorMittal's commitment to the academic world is a constant feature of our corporate social responsibility, hence, fully assuming our economic and social role in Luxembourg. With the University of Luxembourg we join our resources to bring innovation in the definition of steel solutions for construction and push the limits of architectural boldness," says Chairman Michel Wurth.
© Photos: Sophie Margue/University of Luxembourg