Pierre Hippert, a long-lasting and avid supporter and friend of the University of Luxembourg died Thursday, 3 June, at the age of 92.
The Fondation du Pélican de Mie et Pierre Hippert-Faber was founded in 2010 by Pierre Hippert. The foundation, named after him and his wife Mie Faber, was founded to provide support to projects in the field of scientific and academic research as well as in the area of arts and letters. Mr. Hippert had been a long-term supporter of the University and 2021 marked the 10-year anniversary of his foundation's philanthropic activities towards the UL. 
Since 2011, the Fondation du Pélican has been awarding the annual Pelican Grant to PhD candidates affiliated with the Doctoral Programme in Systems and Molecular Biomedicine of the Doctoral School in Science and Engineering (DSSE) at the University of Luxembourg. This grant has been allowing students to attend conferences, participate in workshops all over the world, and meet with international colleagues to forge research collaborations. More than 35 students have been awarded this grant so far. "The Pelican grant represented an incredible opportunity for me", remembers Dr Miguel Oliveira, who received the award in 2014 while carrying out his doctoral studies at the LCSB.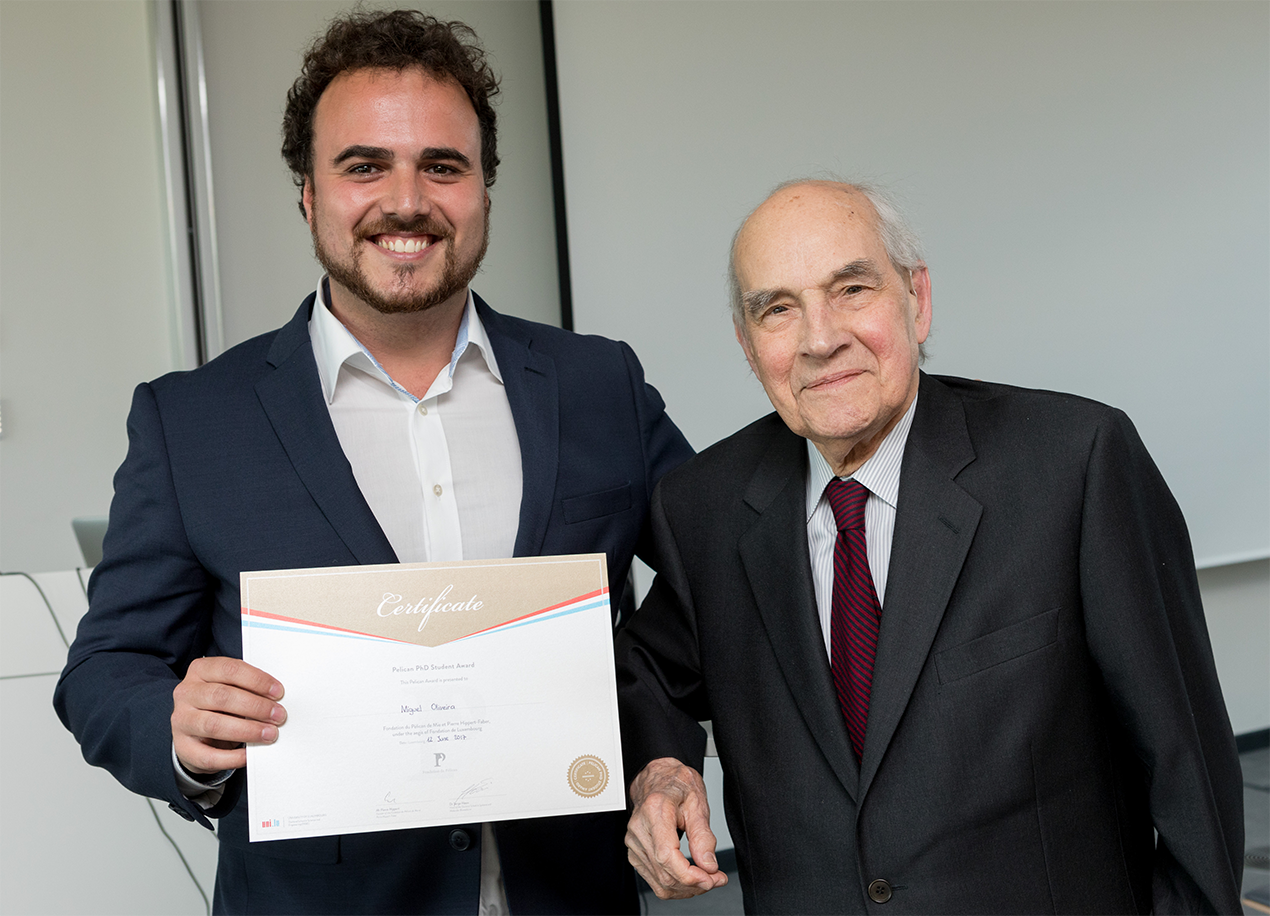 "This grant allowed me to visit some of the most exciting conferences and courses at prestigious scientific institutions, such as MIT in the US. This level of exposure to cutting-edge knowledge and stimulating discussions with world-leading scientist created an incredibly positive impact on my scientific career."
Additionally, the Foundation created the 'Pelican Postdoctoral Fellow' position in 2018, with the goal to attract some of the most brilliant young researchers, ideally with Luxembourgish roots, back to the Grand-Duchy after their PhD thesis. So far, two such Fellows received this prestigious Pelican Postdoctoral Award.
"We thank Pierre Hippert for his extraorindary philanthropic commitment towards the University. His foundation represents his and his wife's legacy: to create a true impact on the students and their research. I can say with complete confidence that he succeeded in reaching this goal. His trust in our University and his pledge to invest in young researchers will not be forgotten," says Prof. Stéphane Pallage, rector of the University of Luxembourg.