The Scienteens Lab, an extracurricular learning centre of the University of Luxembourg, is organising its first workshops in computer science for secondary school pupils. Designed to be an interactive introduction to programming and artificial intelligence, these workshops were developed with the support of the Royal Bank of Canada (RBC) and are the first step toward extending the Scienteens Lab's activities to the field of computer science.
Building on these new workshops, the Scienteens Lab has imagined an exhaustive programme in computer science in collaboration with researchers from the Faculty of Science, Technology and Medicine (FSTM) of the University, more precisely the AI Robolab headed by Prof. Léon van der Torre. This project, entitled "Become A Computer Scientist" (BeCos), has recently gained the support of the National Research Fund (FNR). It will be funded through the PSP-Flagship programme that aims to set up long-term science outreach activities in Luxembourg.
The Scienteens Lab – De Labo fir Jonker – offers workshops aiming to spark pupils' interest in science, showcase latest scientific research and support the next generations in their career choice. For the past eight years, the Scienteens Lab has offered workshops in biology, mathematics and physics to classes in Luxembourg and the Greater Region, inviting over 9400 pupils to step into a scientist's shoes.
Introducing the "Art & AI" workshop
Society is undergoing a rapid digital transformation and smart technologies have become part of our daily life. It is now more than ever crucial to familiarise young generations with the science behind these devices: a deeper understanding of their inner workings is needed to use the technology confidently and securely. To help tomorrow's citizens become informed users and equip them with the right skills to meet different opportunities in the job market, the Scienteens Lab recently decided to extend its activities to computer science.
The first steps were made possible by Royal Bank of Canada (RBC) who supported the initiative early on. "We are thrilled to support the University of Luxembourg and to offer the opportunity for kids to participate in the workshops created by the Scienteens Lab," explains Philippe Renard, CEO of RBC. This sponsorship allowed the Scienteens Lab to develop a new workshop, entitled "Art and Artificial Intelligence", which is now offered to young people aged 12 to 19. Forty RBC employees' children will participate in a series of workshops over the next weeks. Schools can also now book workshops online. These workshops will be given as of 1st December.
Hands-on activities render computer science both accessible and enjoyable. The participants for example discover that artificial intelligence can be used to create works of art. "They learn how to design an unplugged AI and use computer programming to produce drawings," details Régine Poussin, the member of the Scienteens Lab who created the workshop. "Working with images makes it easy to understand the power of computational methods and teenagers – of all ages and genders – have a lot of fun exploring the endless possibilities."
Exciting long-term perspectives
Over the next three years, several additional activities will be developed to inspire teenagers to explore the discipline, while showcasing the thriving research in computer science at the University. "We are looking forward to giving many pupils the opportunity to discover research, acquire some programming skills and sharpen their critical thinking," says Prof. Jean-Marc Schlenker, Dean of the FSTM. "We are excited about this new programme and of course very grateful to the people and institutions who support us," concludes Dr Elisabeth John, head of the Scienteens Lab. "We hope that the activities will pique the young participants' interest and create vocations!"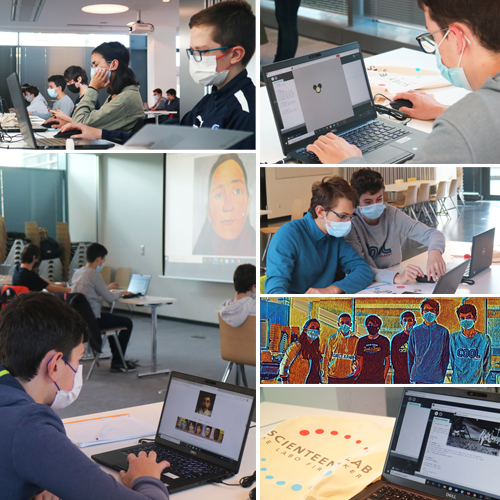 © University of Luxembourg