Luxembourg minister of Finance Ms Yuriko Backes sees reasons for cautious optimism for Europe, despite multiple challenges.
Europe may face a context of perma-crisis (climate change, COVID-19 pandemic, terrorism, a brutal war in Ukraine) but there are also multiple reasons for hope and optimism, the minister said at the Matinée de l'Europe, a conference organised by the Fondation pour le Mérite européen and the University of Luxembourg on 9 May to mark the anniversary of the Schuman Declaration.
Among the minister's proof points:
Recent election results in France and Slovenia tend to indicate that voters are growing increasingly of populism. Also, the war in Ukraine – "a flagrant violation of the UN charter and of fundamental human rights" – contributed to initiate a mood toward strengthening a common European identity.
Regarding climate change, Yuriko Backes highlights the leadership role taken by the European Union in the area of sustainable finance. Also, she notes, the war in Ukraine has accelerated efforts to reduce the EU's dependence on fossil fuels, an issue for which solutions can only be found at a European level and not at individual member state level.
Ms Backes also highlights the digital transition, embodied in the Digital Services Act package, which aims to create a safer digital space where the fundamental rights of users are better protected and to establish a level playing field for businesses and strengthen competition and competitiveness.
Solidarity at the European level, claims the minister, was strengthened as a result of Russia's war in Ukraine, triggering successive waves of sanctions in quick succession. She also notes increased diversity in decision-making as well as inclusiveness, illustrated by the 2022 European Year of Youth intended to bring young people to the decision-making table.
The picture, insists Yuriko Backes, is not in stark black and white contrast, and many grey zones prevail. She admits that none of the observations she makes comes without obvious flip sides. And yet, 50 years after the Schuman Declaration, the EU continues to advance step by step based on concrete initiatives establishing a de facto solidarity.
The Matinée de l'Europe marked the anniversary of the Schuman Declaration on 9 May 1950 which is considered one of the corner stones of the European Union. The declaration was presented by French foreign minister Robert Schuman and proposed the creation of a European Coal and Steel Community, the precursor to today's EU. The Matinée de l'Europe took place at the "Schuman house", birth place of Robert Schuman in Luxembourg city. The building is used today by the University's Centre for Contemporary and Digital History (C2DH).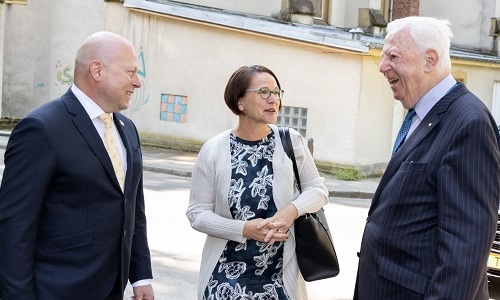 From left: University rector Prof. Stéphane Pallage, Luxembourg minister of Finance Ms Yuriko Backes, Mr Jacques Santer, former President of the European Commission
© University of Luxembourg / Michel Brumat