An international team consisting of researchers from Japan and Luxembourg showed for the first time that pathological forms of the alpha-synuclein protein present in the blood of patients can be used for the diagnosis of Parkinson's disease and its differentiation from several other neurodegenerative motor disorders.
Their ground-breaking results, recently published in Nature Medicine, constitute a major step towards developing better diagnostics based on a simple blood test.
Parkinson's disease, dementia with Lewy bodies and multiple system atrophy compose a group of neurodegenerative disorders called synucleinopathies. They are caused by the abnormal aggregation of a protein called α-synuclein. These aggregates progressively appear in the brain of patients causing neuronal cell death and leading to different neurological symptoms, from tremor to dementia, depending on the area of the brain affected. Currently, there is no curative treatment for this group of diseases and diagnosis can be a lengthy process, involving clinical examinations and medical imaging. Furthermore, differentiation between these disorders is a challenge in the early stages.
As previous studies have revealed that α-synuclein accumulates not only in the brain but also in peripheral nerves, researchers from Juntendo University, the RIKEN Centre for Brain Science and Nagasaki University hypothesised that so-called α-synuclein seeds could also be found in the blood of patients. These pathological forms of the protein that can induce the misfolding and aggregation of normal α-synuclein molecules would circulate through the vascular system and contribute to the progression of the disease.
"We thought a blood-borne biomarker may reflect the pathological spread of the disease," explains Prof. Nobutaka Hattori, at the Department of Neurology of Juntendo University and current head of the Neurodegenerative Disorders Collaboration Laboratory at RIKEN Centre for Brain Science. "This is why we developed a novel method to detect very small amounts of α-synuclein seeds in serum and then conducted a large-scale screening of patients with different synucleinopathies." The method called IP/RT-QuIC relies on immunoprecipitation (IP) to concentrate the misfolded proteins in the patients' serums and on real-time quaking-induced conversion (RT-QuIC) to amplify these α-synuclein seeds.
The Japanese researchers teamed up with scientists from the Luxembourg Centre for Systems Biomedicine (LCSB) at the University of Luxembourg, the Luxembourg Institute of Health (LIH) and the Laboratoire National de Santé (LNS) to benefit from the unique longitudinal clinical and neuropathological database established during the past decade in Luxembourg, as part of the National Centre of Excellence in Research on Parkinson's Disease (NCER-PD). "We have been following large groups of people diagnosed with Parkinson's disease and other forms of parkinsonism annually for up to nine years, meaning that we have traced their clinical progression and collected biological samples such as blood, cerebrospinal fluid and brain tissue from autopsies," details Prof. Rejko Krüger, director of Transversal Translational Medicine at the LIH and head of the Translational Neuroscience group at the LCSB. "Our specific study design allows for comparison between different synucleinopathies and helps to differentiate them from other neurodegenerative diseases." Prof. Michel Mittelbronn, head of the Luxembourg National Centre of Pathology, adds: "We have also established the Luxembourg Brain Bank which gives us access to brains donated by study participants for post-mortem analyses. It provides complementary neuropathological diagnostics, the gold standard for diagnosing neurodegenerative disorders, which can be used to validate clinical findings."
The collaboration proved successful: the IP/RT-QuIC method detected α-synuclein seeds in the serum of 95% of patients with synucleinopathies. In addition, it also showed that the structure of these seeds shows specific patterns that differ between diseases. Interestingly, the aggregation and propagation of the seeds replicated these patterns in in vitro and in vivo models of Parkinson's disease. "Not only have we succeeded in detecting α-synuclein seeds in the serum of patients with Parkinson's disease and other disorders," rejoices Prof. Hattori. "Our team has also discovered, for the first time, that these α-synuclein seeds have structures and properties characteristic of each disease, suggesting that they shape the pathology of each synucleinopathy."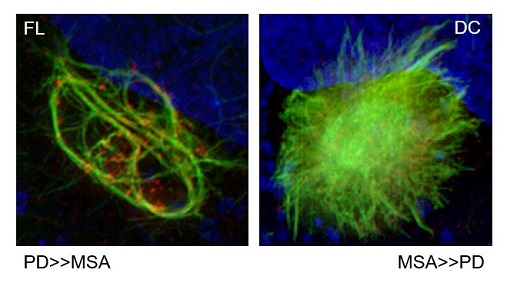 High-resolution microscopic images of cell cultures where alpha-synuclein seeds (green) appear as filamentous structures (left) which are more likely to lead to a Parkinson's disease pathology compared to dense-core alpha-synuclein seeds (right) which are more likely to lead to Multiple System Atrophy.
In conclusion, α-synuclein seeds are useful markers for the diagnosis of Parkinson's disease and its differentiation from several other neurodegenerative disorders. These ground-breaking results will help to establish a simple diagnostic test based on the presence and specific shape of α-synuclein seeds in serum: a game-changer when it comes to the diagnosis of synucleinopathies. "Being able to diagnose Parkinson's disease with a simple blood test will be a major progress as diagnosis is currently largely based on clinical examination by a neurologist," underlines Prof. Krüger. "We are very proud to contribute to this pioneering research collaboration with the Luxembourg Parkinson's Study. It illustrates the importance of deep-phenotyped cohorts – for which comprehensive data have been collected – to address major unmet needs of people with Parkinson's disease."
___
Reference : Ayami Okuzumi, Taku Hatano, Gen Matsumoto, Shuko Nojiri, Shin-ich Ueno, Yoko Imamichi1, Haruka Kimura, Soichiro Kakuta, Akihide Kondo, Takeshi Fukuhara, Yuanzhe Li, Manabu Funayama, Shinji Saiki, Daisuke Taniguchi, Taiji Tsunemi, Deborah McIntyre, Jean-Jacques Gérardy, Michel Mittelbronn, Rejko Krüger, Yasuo Uchiyama, Nobuyuki Nukina & Nobutaka Hattori, Propagative α-synuclein seeds in the serum of patients with synucleinopathies, Nature Medicine, May 2023.
___
About NCER-PD
The National Centre for Excellence in Research on Parkinson's Disease (NCER-PD) is a joint initiative involving several Luxembourgish partners: the LCSB, the LIH with its Integrated Biobank (IBBL), the Centre Hospitalier de Luxembourg, and the LNS. They combine efforts and expertise to develop new methods for early diagnosis and better treatment of Parkinson's disease. NCER-PD has been funded since spring 2015 by the Luxembourg National Research Fund (FNR). Further information at www.parkinson.lu.
© Ayami Okuzumi
© University of Luxemburg. From left to right : Prof. Rejko Krüger and Prof. Nobutaka Hattori