The Association "Amis de l'Université" has awarded the 2021 Rolf Tarrach Prize, yearly rewarding the best doctoral thesis of the University of Luxembourg, to Dr Carsten Ullrich, member of the Faculty of Law, Economics and Finance (FDEF). His thesis on the topic of "Unlawful Content Online: Towards A New Regulatory Framework For Online Platforms" and related presentation fully met the jury's expectations and criteria.
His doctoral thesis, conducted under the supervision of Prof. Mark Cole, questions whether online platforms should be held responsible to a larger degree for the ongoing dissemination of illegal content on the internet, and examines a number of problematic areas where EU legislators and courts are reaching their limits under current laws. It proposes ways of how social media networks and online marketplaces could be integrated more adequately and effectively in our efforts to making the internet a fairer and safer place.
In December 2016, Carsten Ullrich joined as doctoral candidate the Doctoral Training Unit on Enforcement in Multi-Level Regulatory Systems (DTU REMS), a joint research programme of the Faculty of Law, Economics and Finance (FDEF), the Faculty of Humanities, Education and Social Sciences (FHSE) and the Max Planck Institute Luxembourg for Procedural Law (MPI Luxembourg), focusing on the way enforcement in multi-level regulatory systems is designed in view of specific enforcement challenges in a number of specific policy areas such as banking & financial law, IT & satellite communications law, international trade & investment law, and dispute resolution.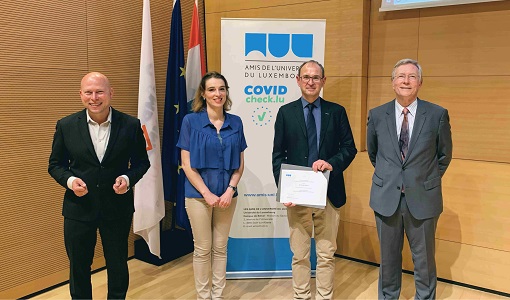 Carsten Ullrich has 21 years of professional work experience, including eight years spent at Amazon in Luxembourg and London as a senior manager in several regulatory and compliance functions, and in fraud detection. He also acted as regulatory policy analyst for the British and Canadian embassies in Berlin and as strategic consultant for Euromonitor International in London.
In 2012, he obtained an LL.M. in Innovation, Technology and the Law from the University of Edinburgh and he also holds an M.A. East European Economics and Politics from University College London (UCL). 
By awarding the best doctoral thesis each year with a prize money of 10,000 euros, the "Amis de l'Université" Association rewards excellence in the field of research and promotes the international reputation of the University of Luxembourg.