Exploring a continent of networks
The challenges currently facing Europe are an invitation for us to develop a more thorough understanding of European history in all its complexity, with its interconnections, divisions and paradoxes. We aim to take a fresh look at Europe's institutionalisation, its memories and controversies, its media and experts, by adopting a network-based perspective that draws on digital history methods.
Discover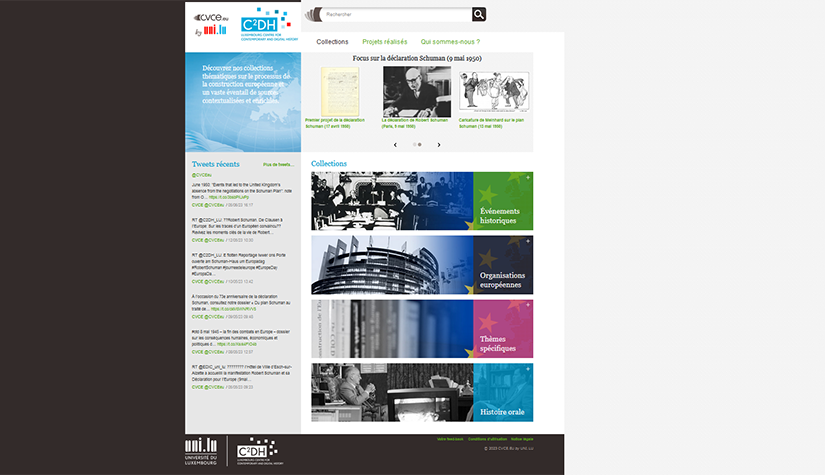 Our projects
1 March 2021 to 29 February 2024

Coordinator: Valérie Schafer

Combining close and distant reading, this historical research analyses the evolution of viral content on the Web and on social media and their digital "noise" and traces within web archives, from the early Web in the 1990s to Instagram and Twitter.

See the Hivi website for more information.
1 March 2022 to 28 February 2025

Coordinator: Benoît Majerus

Letterboxes, representing shell companies, are an emblematic symbol for a form of international capitalism that has come under increasing scrutiny in recent years and serve as a focal point for international criticism of the Luxembourgish financial system. LETTERBOX is an innovative project that mixes recent questions in financial history with cutting-edge digital history. It will situate Luxembourg in a global financial geography and unveil the local ecology of lawyers, notaries and accountancies in a historical perspective.
1 January 2022 to 31 December 2025

Coordinator: Elena Danescu

The presence and influence of women in international relations and diplomacy is a subject that has received little attention in contemporary historiography. In this context and given the absence of systematic archive sources, oral history not only represents a novel and original source; it is also the most appropriate way of elucidating the role of female figures in European and international relations in Luxembourg after the Second World War. The aim of this oral history research project is to conduct semi-structured filmed interviews with women from a wide range of backgrounds (political, diplomatic, economic, trade union, cultural, technocratic, civil society, etc.) whose action left a mark on European and international relations in Luxembourg, then to publish them – in full, as a series of themed excerpts and in transcription form – on the C²DH research infrastructure. The resulting multimedia resources will also be shared with the Historical Archives of the European Union in Florence.
1 June 2021 to 31 May 2025

Coordinator: Benoît Majerus

The history of psychiatry is a history of the difference between "normal" and "crazy". However, this difference is becoming increasingly fragile. On the one hand, with the opening of the psychiatric institutions and the integration of the inmates into society, the crazy gains an everyday normality; on the other hand, behaviours and reactions such as intoxication, stress or attention deficit are pathologized and the subject of psychiatric interventions. This means that the narratives of psychiatry historiography that have been tried and tested so far lose their power of interpretation, which is precisely due to the dichotomy that is currently in question. This is where the research group comes in. It does not try to trace a change in the concepts of madness, but focuses on the erosion of the difference between normal and mad in dealing with psychological alterity.
1 March 2022 to 28 Febuary 2025

Coordinator: Andreas Fickers

The historical research project BUREU will investigate which design choices were made in relation to the interiors of EU office buildings in Luxembourg, Brussels, and Strasbourg, and this for the period between the early 1950s and the early 2000s. More concretely, BUREU will seek to answer the question which managerial ideas were at the root of these office interior designs.
The notion of "efficient management" had become highly important in virtually every large organization since the start of the twentieth century. How this "efficiency" could be stimulated and facilitated through architectural design, however, has been a continual matter of debate between various groups (architects, managerial specialists, the architectural clients, and so on). Indeed, every time an office building was built or rented, crucial choices were to be made. How could the employees' material working environment be made to fit the organization's leading ideas on efficient work organization? Using a metaphor from the world of the computer, we refer to this material working environment as "hardware", while we define the leading ideas on work organization as "software". Using another metaphor from the same field, we consider the office as a so-called "interface" between this hardware and software. Offices were, in other words, places where the two components "met" and blended into a whole.
By retracing the debate on the "ideal" relation between "hardware" (office interior design) and "software" (managerial ideas) in relation to the major EU institutions, we will inquire if – and how – the powerful political ideal of an "efficient" Union was translated into "efficient" interior architecture. By investigating the historical perceptions of EU officials, we will additionally try to unearth which effects certain design choices (such as compartmentalized private office spaces versus large collective office rooms) had on the everyday activities on these officials. Source materials will include little-researched archives, as well as new interviews with (former) architects and EU employees.
Ultimately, BUREU wants to contribute to our collective understanding of the historical roots of concepts such as "efficiency", "office work", and, of course, the integration process driven by the European Union.
1 April 2023 to 31 March 2026

Coordinator: Benoît Majerus

Psychiatry in the second half of the 20th century was marked by many changes: introduction of neuroleptics, deinstitutionalisation, opening up to populations that were not yet taken care of, diversification of the staff working in institutions, blurring of the boundary between madness and normality… At the same time, Western Europe is definitively transforming from emigration to immigration societies, even if the migratory balance only becomes positive for Europe in the early 1960s. In an area comprising the 15 members of the European Union – i.e. before the integration of the Eastern European countries – the number of foreigners increased fivefold between 1950 and 1994.
This research project intends to explore the field that is emerging at the intersection of the migration phenomenon and psychiatric practices and theories, on a national and transnational scale. This almost uncharted territory, rich in sources, is stimulating and promising not only in terms of historical questioning, but also in terms of contemporary debates and current issues. If increasing globalisation accelerates the flow of people, and wars displace men, women and children without leaving them any choice, the associated psychological risks remain present, and make it urgent to reflect, as never before, on the resources, tools and spaces that psychiatry and social, health and mental health authorities can allocate to these sufferings.
14 October 2021 to 13 October 2025

European Science Foundation

Coordinator: Frédéric Clavert

We are living in times of deep contradictions. While our world accelerates and grows smaller through superfast digital networks, it is also marked by widening socio-economic disparities. We face viral pandemics, rapid species extinction, increased automation of work, quick fixes for mental health, political upheavals and displacements of old certainties. Adaptation and resilience to these challenges must draw on past experiences and cultural resources – this can only happen if we slow down and take time to remember well. This Action addresses the need for increased interdisciplinarity in our understanding of how societies confront their past to contend with environmental, economic and social changes brought on by sudden events and by slow and creeping transformations. The future of peace, prosperity, politics, work and climate will depend upon how we remember socio-cultural and political changes. Transformative practices of remembrance – as objects of study and as critical interventions – will be shared collaboratively across Arts and Sciences in order to reveal the ways in which humans confront large-scale processes of change. This Action will uniquely focus the attention of scholars, policymakers and cultural professionals on alternative paths to build resilience in the face of contemporary rapid-response culture. Through transnational and interdisciplinary discussions, we will address urgency, emergency, crisis and acceleration by drawing together the 'multi-sited', 'eventless' and slow-moving phenomena that can best be studied by 'slowing down' our research methods, to afford capacity building, knowledge generation and impact activities. Inspired by 'slow science' (Stengers 2018), we seek an alternative kind of social remembering.