International Women's Day is a global awareness day for celebrating the social, economic, cultural and political achievements of women. Having been marked in our calendars for over a century now – it began in 1911 – the theme of this year's event is #BreakTheBias. The campaign urges the imagination for a gender equal world – one free of bias, stereotypes and discrimination, in favour of one that is diverse, equitable and inclusive. In celebration of today's event, SnT researcher Arianna Rossi is hosting an event that champions local, successful women. We sat down with her to ask a few questions about her career and experience as a female researcher.
Could you tell me about your background – where do you come from and what is your research area here at SnT?
Of course! I originally come from Italy, and my background is very interdisciplinary. I studied linguistics originally in Bologna and had a job helping with writing workshops for people working in administration. The language used was a lot of legalese and bureaucracies – this very technical jargon that isn't understandable for normal citizens. It was around this time I had the idea that I wanted to pursue a Ph.D., for which I ended up exploring the development an automatic simplification of legal language, and production of visuals that explain a legal concept. This was part of the Erasmus Mundus Ph.D. programme, which involves lots of different research institutions and every six months you transfer to another. So while I initially started in Bologna, I moved onto Turin, Barcelona, the US and then Luxembourg. I loved the quality and freedom of research here, so I was keen to find a post-doctoral position here too. At the end of my Ph.D. was when I met Prof. Gabriele Lenzini, head of the Sociotechnical Cybersecurity Interdisciplinary (IRiSC) research group at SnT, and we have been working on various projects together ever since.
Do you think that you've faced any challenges in your field related to being a woman?
I think I'm pretty lucky that I haven't actually – at SnT our research group has a very nice gender balance. However, I know of other friends and colleagues who more-so focus on computer science who have stories to tell of their experiences, but because I'm in this research area that sits between law, computer science and design, there are many more women here. When I made the jump to computer science from law originally, I did feel the difference, especially at computer science conferences. I remember once when I spoke to the chair of a conference, he automatically assumed I wasn't a researcher like him. At another conference I had a photographer want to take my photo and to me it seemed like they were simply trying to fill a quota – I wasn't a speaker at the event and that photographer didn't know that I well-represented the community, it was simply gender washing.
You're hosting an event on Tuesday that's celebrating local, successful women – could you tell me a little about the event? What made you want to organise this and what aims do you have for discussion?
Yes! there are actually so many events on for International Women's Day this year, which is so great to see – it's starting to become a regular occurrence. I'm organising the event with the Luxembourg Legal Hackers, who are a part of the global grassroots movement of Legal Hackers. It's an initiative that was launched around 10 years ago to foster open access to legal knowledge and to technology. I'm leading the group in Luxembourg, which has definitely taken me out of my comfort zone, but it's such a great learning and networking opportunity – and women need that. Networks are fundamental, and women tend to have a smaller network of professionals, so our event aims for us to an open discussion altogether – audience and panel as one. We have some great female leaders, entrepreneurs and gender equality specialists joining us, and the idea from my side was to steer the discussion around solutions rather than challenges. I want to speak about success stories, the initiatives that exist in Luxembourg to support female entrepreneurs and women in tech.
What do you think all of us can do to contribute towards promoting gender equality?
I think it's difficult for anyone to have a clear-cut answer on this because there's so many things in the world we have to change. Everyone needs to be more engaged, understand that we are all connected, not only in terms of issues but also in opportunities. While gender disparity continues, there are neglected communities out there, inequalities everywhere, as well as power disparity between the rich and the poor. Within research, funding is more accessible in certain fields than others. I'm quite lucky that I work in privacy and technology because it's an area that benefits from a lot of funding, more so than perhaps a field like humanities or social sciences. Just channelling funding into certain fields has severe consequences on society as a whole – and our economy – not to mention that technology is predominantly a field with a low proportion of female researchers. In my opinion, the problem also lies with those who make the policies, because if policies are only made by people that do not share the same problems or worries than the rest of the population, these issues will never be resolved.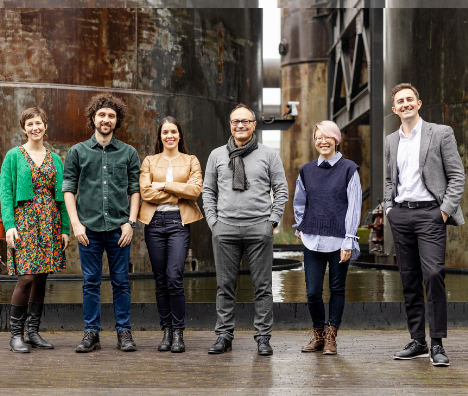 I would really like for my work to resolve social issues and work towards helping some of the inequalities that exist. Our world is moving online – we've seen this over the last few decades that everything is becoming digitalised. Not just private services but also public services too. As we do this, power imbalance continues to be an issue because many people are not equipped with an understanding as to how they could take meaningful decisions online and how they could be being manipulated or influenced online. What I would like to do is to work towards making the internet safer for everyone, respectful to everyone and reflects more values than we usually do. I'd like to have a positive impact on society for what concerns the design of online services. I would also really love to teach adults that are less technologically literate, or children, as these audiences are far more vulnerable to online influence. It would mean that what I study at an academic level is influencing real society – because I often feel that as researchers our work doesn't filter down into the rest of society.
Rather than there being one specific person, I think there are many people that inspire me – based on their behaviour towards other people and their ability to split their time. I think as researchers we're often swamped with projects, and so I really admire people who are able to keep a balance between their personal life and their research interests, while staying human and being attentive to other people's needs and feelings. I'm trying in my life to better separate my time, which involves being very efficient in using your time during the day in order to properly relax and reserve time for your passions, as well as your friends and family at night or at the weekend. There are countries now adopting a four-day working week and honestly it can be better in some careers that benefit from having headspace. Being a researcher, you do need time to think in order to be creative, and therefore be good at your work.
Network and believe in yourself! Find people out there who are willing to exchange ideas and speak with you. A lot of researchers are happy to provide tips or have a discussion with you on the subject area. Travel to conferences if you can, and build your network. Collaborating with people means more job opportunities, publication opportunities and more visibility. Also, as women we're too guilty of trying to fulfil every criteria in a job application – that perfect candidate simply does not exist, so just put yourself forward and believe in yourself. Don't think that you'll ever be ready for something, you learn how to do things while doing them, and often it sits a little out of our comfort zone! You won't always be successful, but often that effort pays off.