A paper published by the Molecular and Functional Neurobiology group at the LCSB was mentioned during the Movement Disorders Society meeting organised in Madrid in September 2022. The study, focusing on the role of different cell types present in the human midbrain in Parkinson's disease, was highlighted during the plenary session in a list of interesting fundamental research published this year.
An international congress for research on movement disorders
Every year, the International Parkinson and Movement Disorder Society (MDS) gathers thousands of the field's clinicians, researchers and industry supporters with an interest in the current research for the diagnosis and treatment of movement disorders. The 2022 edition of this international congress took place in Madrid on 15-18 September and was the opportunity for Prof. Anne Grünewald and her team to share their results on Parkinson's disease Brain in March 2022.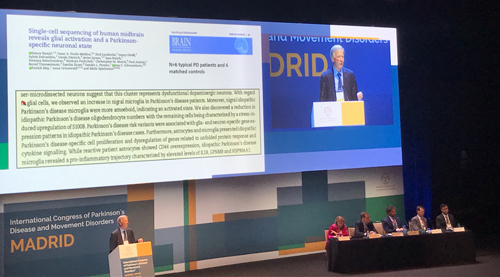 Single-nuclei sequencing, disease-specific state and reactive microglia
The study, conducted in collaboration by Prof. Grünewald's team at the LCSB and researchers from the Max Planck Institute for Molecular Genetics in Berlin, generated a unique single-nuclei RNA sequencing dataset and revealed the existence of a specific cluster of cells in the midbrain of Parkinson's patients. The results also suggested that microglia contribute to the degeneration of dopaminergic neurons and that glial activation is a central mechanism in idiopathic Parkinson's disease.
In a nutshell, the study reinforces the relevance of neuroinflammation in the pathology of this movement disorder, provides the basis for new research approaches investigating the role of different cell types and is especially relevant for translational programs that aim to develop immunomodulatory therapies.
The resulting article was highlighted during the plenary session of the congress when Prof. José A. Obeso, Director of the Neuroscience Center at Fundación de Investigación HM Hospitales, presented several interesting research papers published in 2022.
—
References:
Original article: Semra Smajić, Cesar A. Prada-Medina, Zied Landoulsi, Jenny Ghelfi, Sylvie Delcambre, Carola Dietrich, Javier Jarazo, Jana Henck, Saranya Balachandran, Sinthuja Pachchek, Christopher M. Morris, Paul Antony, Bernd Timmermann, Sascha Sauer, Sandro L. Pereira, Jens C. Schwamborn, Patrick May, Anne Grünewald and Malte Spielmann, Single-cell sequencing of human midbrain reveals glial activation and a Parkinson-specific neuronal state. Brain, 14 March 2022.