The Rotary Clubs of Luxembourg were able to collect important donations from private donors and their sponsors, despite the cancellation of the traditional screening of a special film in the Kinepolis cinemas.
The year 2021 marks the 9th edition of the "Espoir en tête" project, initiated by all Luxembourg Rotary Clubs. Generally, the event allows donations to be collected via the screening of an exceptional Disney film in the Kinepolis cinemas in Kirchberg and Belval. This year, due to the pandemic and the health measures in force at the beginning of 2021, the screening had to be cancelled. Nevertheless, the action could be carried out in a different way in order to achieve its objective: to finance research projects on brain diseases in Luxembourg.
Two research projects selected in 2021
Therefore, as every year, a large number of Luxembourg institutions active in this field presented their research projects to a jury of experts in charge of selecting the selected project or projects.
The first project financed by the "Espoir en tête 2021" action was the development of a new treatment targeted at the Parkinson's microbiota. Developed by the "Systems Ecology Group" of the "Luxembourg Center for Systems Biomedicine" (LCSB) of the University of Luxembourg, this project led by Professor Dr. Paul Wilmes was supported by a €50,000 grant.
The second project, funded with €38,000, studies the deciphering of cellular signatures associated with memory decline in Alzheimer's disease, as well as the neuropathology and technology to identify the alterations that lead to cognitive symptoms. It is being developed by the Neuropathology Group of the Luxembourg Center of Neuropathology at the LCSB of the University of Luxembourg and is led by Dr. David Bouvier.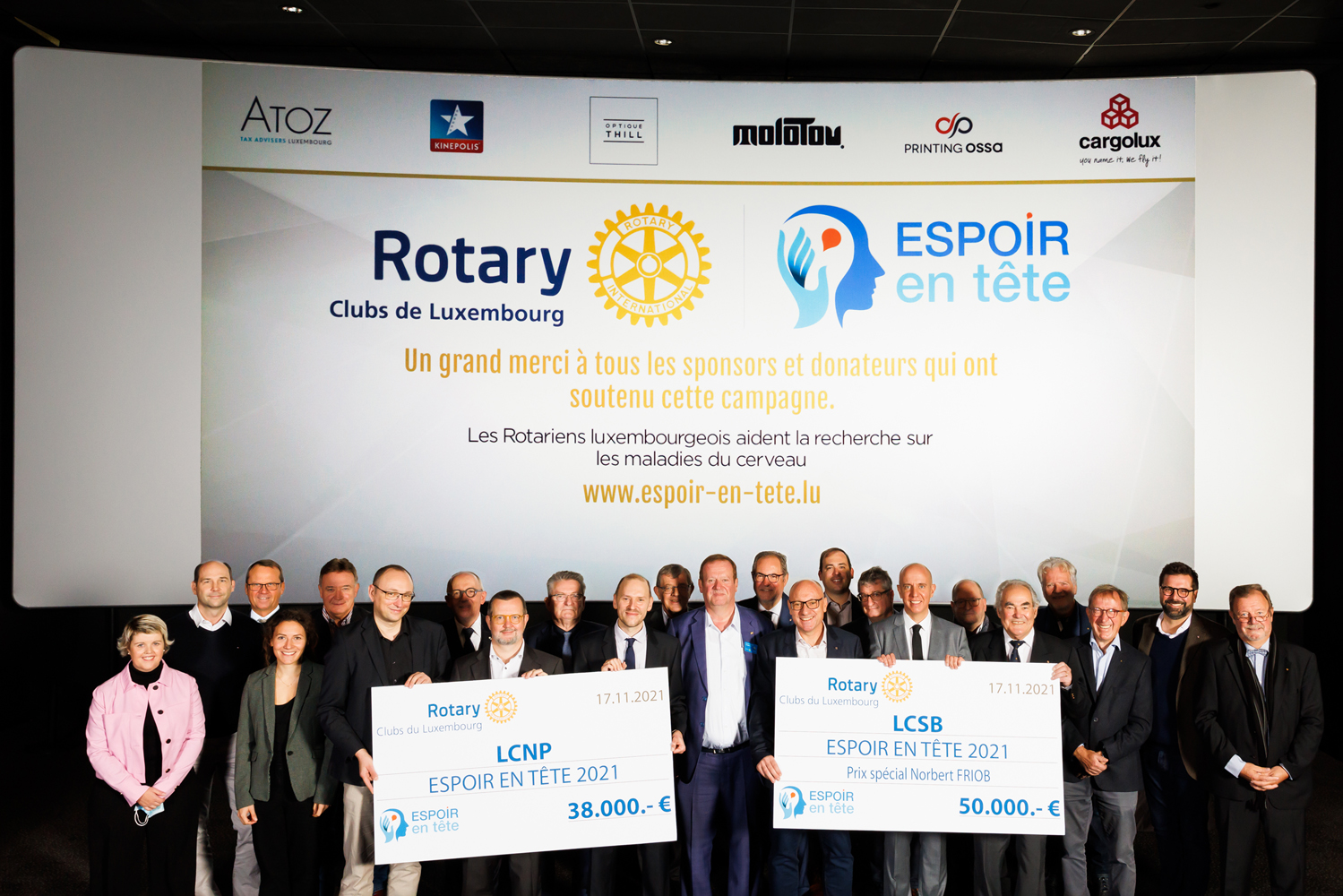 589,000 € raised since the launch of "Espoir en tête"
The members of the Luxembourg Rotary Clubs would particularly like to thank Norbert Friob, Governor of Rotary Club District 1630 in 2013/2014 and one of the initiators of the "Espoir en tête" project in Luxembourg. His valuable support has made it possible to create a new special prize called "Espoir en tête – Prix Norbert Friob", awarded in the framework of this exceptional year to the project led by Professor Dr. Paul Wilmes.
A big thank you is also addressed to all the sponsors who contributed to the success of this 9th edition and who, despite the circumstances, made it possible to bring the total amount of donations collected and distributed since the launch of "Espoir en tête" to € 589,000.
More information on www.espoir-en-tete.lu