For four years now, the ADA Chair in Financial Law at the University of Luxembourg's Faculty of Law, Economics and Finance, together with the non-governmental organisation ADA (Appui du Développement Autonome) has hosted the Certificate in Law and Regulation of Inclusive Finance.
In January 2020, a group of 22 students from countries all over the world came together in Luxembourg to complete the 10-day programme which aims to deepen the participants' knowledge of and skills in the law and regulation of inclusive finance, with a specific emphasis on developing countries. Courses are taught by Faculty professors, including the ADA Chair holder, Professor Dr. Dirk Zetzsche, the ADA Executive Director Ms. Laura Foschi, as well as experienced professionals from the European Investment Bank, the European Investment Fund and various international law and auditing firms and former judge at the Court of Justice of the European Union General Court, Miro Prek.
Two course participants, Nonyelum Ujam and Usama Khan kindly sat down for an interview to speak about their experience with the programme. Mrs. Ujam and Mr. Khan's profiles represent the diversity of the course participants. Mrs. Ujam specialises in digital financial services in the Financial Inclusion unit at the Central Bank of Nigeria while Mr. Khan is deputy CEO of SAHULAT Micro Finance Society, a non-profit organisation in India working towards developing institutions of Interest Free microfinance in line with the national agenda of financial inclusion.
 How did you learn about the programme?
The Certificate in Law and Regulation of Inclusive Finance programme, which begin in 2016, has added more participants to its cohort with each passing year. Scholars and professionals learn about the programme and are persuaded to apply mainly through word of mouth. For Mrs. Ujam, it started with the Head of Financial inclusion at the Central Bank of Nigeria who completed the programme in 2018 and recommended it to other colleagues who also came to Luxembourg and then recommended it her. In Mr. Khan's case, it was Shariq Nisar, one of the programme's instructors and professor at the RIZVI Institute of Management Studies and Research who told him about the opportunity during a conference at which both were speaking in the Maldives. Proof that the news travels far!
What is inclusive finance, what does it mean to you?    
According to the ADA, inclusive finance is, at its most basic definition, "the range of banking products and financial services made available to poor populations". For both Mr. Khan and Mrs. Ujam, inclusive finance is not only a question of access to financial products, but must also improve the lives of the populations that are served, whether this be through the use of fintech to improve investor protections or the development of institutions such as the National Collateral Registry, an initiative of the Central Bank of Nigeria where populations can transform moveable assets such as jewellery into collateral for cash loans. Mr. Khan also insisted on the financial literacy component on inclusive finance. Marginalised populations, having only interacted with the informal economy, must learn how the formal banking system works and also how to trust it.
Moreover, Mrs. Ujam underlined the fact that inclusive finance is a win-win for national economies. The informal financial sector in developing countries is huge, but immeasurable. When these economic activities can be brought under the umbrella of the formal economy, the potential for GDP growth is enormous. This harnessing and legitimising of real, yet unmeasured economic activity remains a motivating factor at the national level.   
What aspects of the programme can you apply to your work?
The programme has been designed to have a practical focus, as most of the participants are already established professionals in their fields. Mrs. Ujam and Mr. Khan agreed that the course was insightful end to end, with no need to "cherry-pick" topics. In particular, Mrs. Ujam cited Egyptian Central Banker Dr. Rasha Negm's emphasis on digital financial services and fintech. Mrs. Ujam, who works in this field, will be able to apply what she learned immediately to her work at the Central Bank of Nigeria. Furthermore, Mrs. Ujam underlined Professor Dr. Dirk Zetzsche's lessons on cyber-security and the need to take these issues as critical from a legal and regulatory aspect as being something that she can put to use practically.
Aside from the actual course material, Mr. Khan added that the programme creates networks of like-minded people. Inclusive finance scholars, professors and practitioners who would normally not meet come together in Luxembourg and make valuable connections.  Participants are not only learning from their professors, but also from each other. While the programme may only last 10 days, the impact is much longer-lived. Once the course has finished, the cohort can continue to correspond, sharing challenges and problem-solving together from across continents. 
As an example of this global connectivity, Mrs. Ujam felt a real sense of pride to learn that the Deputy Governor, Financial Systems Stability, at the Central Bank of Nigeria, Mrs. Aishah Ahmad, was well-known and highly respected on the world stage when Dr. Negm called Mrs. Ahmad a 'rock star' in her field. Mrs. Ujam said that this interaction made her feel very honoured to be among this group of influential female central bankers.
What did you think of Luxembourg?     
Mr. Khan, for whom this was also his first trip to Europe, saw snow for the first time in his life. He rather enjoyed the cold and rainy weather and had no complaints. Mr. Khan was also impressed with the history of Europe in general as these were places he studied at school as a child. Mr. Khan had plans to travel to Paris and Warsaw on his way back to India after visiting the Karl Marx house in Trier, Germany.      
Mrs. Ujam explained that she saw Luxembourg as a very serious country. The people, she said, could be characterised with a slang word in Nigeria, 'efiko', which means someone who spends all their time studying. Although admittedly, the group did not meet very many locals during their stay!        
 Real impact
People like Mrs. Ujam and Mr. Khan are the boots on the ground of inclusive finance. Each day, they are involved in the policy-making and technology development that allows marginalised people to access financial tools and ultimately leave poverty behind. They are the actors of a better tomorrow, bringing palpable passion and conviction to their professions. The Certificate in Law and Regulation of Inclusive Finance offered at the University of Luxembourg supports and encourages these highly-engaged practitioners, providing opportunities for global connections that will have real, local effects.
To find out more about the programme and how to apply: https://wwwen.uni.lu/studies/fdef/certificate_in_law_and_regulation_of_inclusive_finance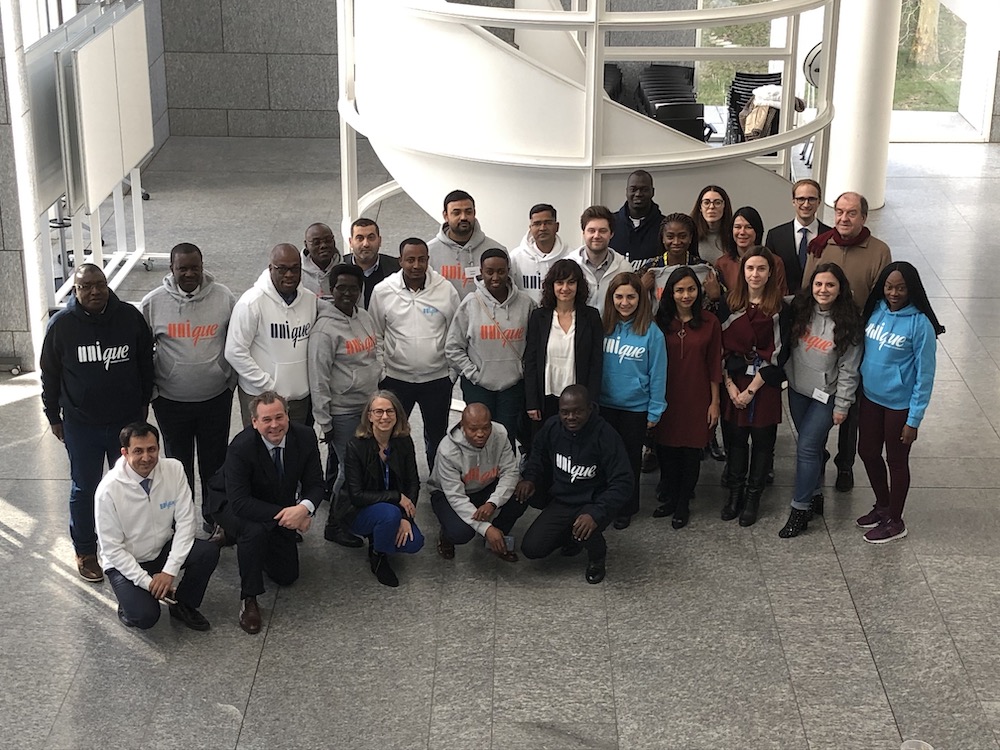 Pictured: the 2020 cohort with faculty members