On Tuesday 5 October, the European Committee for Standardization (CEN) and the European Committee for Electrotechnical Standardization (CENELEC) hosted a virtual third edition of the Standards+Innovation Awards. The annual event aims to celebrate the contribution of hardworking researchers, innovators and entrepreneurs in the field of standardisation.
Three categories were presented, including the 'Project Award', 'Individual Researcher/Innovator' and the debut 'Young Researcher', with a total of 23 nominations distributed among the categories. The 'Young Researcher' Award will be given out annually to a student under the age of 30 who has worked on a standardisation-related academic thesis, doctorate dissertation, or other university research project.
At this year's ceremony, Saharnaz Dilmaghani was the winner of the 2021 'Young Researcher' Award. Dilmaghani has just concluded her time as a doctoral researcher for the Parallel Computing and Optimisation (PCOG) research group, in the framework of the joint research project between SnT and the Luxembourg Institute of Standardisation, Accreditation, Safety and Quality of Products and Services (ILNAS). Led by Prof. Pascal Bouvry, PCOG focuses on solving real-world problems through the means of high-performance computing and artificial intelligence algorithms.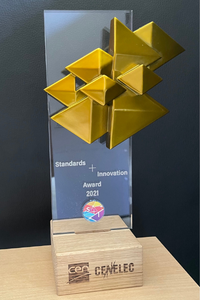 "Being among such international and strong shortlisted candidates was an honour, so to be selected as the winner was so exciting!" said Dilmaghani following the ceremony last week. "It perfectly concluded my Ph.D. studies at the University and at SnT – it really came at the best time! The next step for me is to be prepared for my Ph.D. defence and continue my work at PwC."
Since 2018, Saharnaz Dilmaghani has been a doctoral candidate within the University of Luxembourg's Interdisciplinary Centre for Security, Reliability and Trust (SnT). Her research at the PCOG research group of SnT mainly focused on data analysis, networks, artificial intelligence and privacy. Having concluded her research, she now works externally as an associate consultant in the data analytics and artificial intelligence team for PwC Luxembourg.