The Luxembourg Centre for Logistics and Supply Chain Management hosted its second annual eXplore conference on 1 March featuring high-profile speakers from industry and academia giving insights into the future of supply chains.
While the future might be hard to predict, companies can nonetheless develop strategies to prepare for what is to come, Dr Chris Caplice (Executive Director of the MIT Center for Transportation and Logistics) argued in his keynote speech. Analysing past developments, assessing the current state of innovation and anticipating change in terms of its impact rather than the specifics of the technology can help businesses cope with STEEP (social, technological, economic, environmental, political) uncertainties, he argued.
Among the innovations changing industries, Ken O'Farrell (Global Reverse Logistics Manager at Microsoft) discussed the impact of automation and data-driven decision making on transparency and information access across supply chains. Data analytics and artificial intelligence were also the focus of an interview with Dr Holger Kömm (Director of the Adidas Group's Data Science Lab). Dr Kömm emphasised the importance of creating an interface between data scientists, who develop solutions, and the users of these solutions.
Jointly working on solutions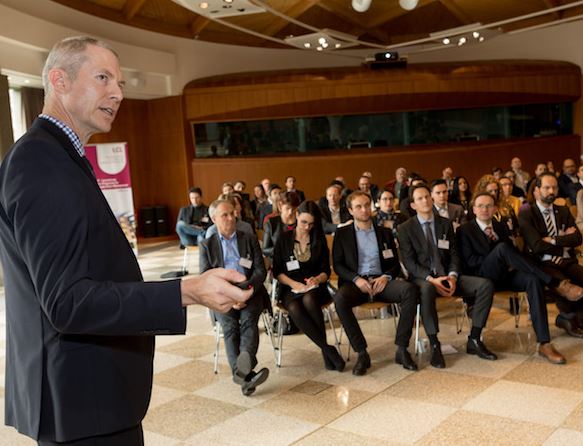 Showing that the future of supply chains will be impacted in many different areas, LCL Associate Prof. Joachim Arts gave a comprehensive overview of the after-sales market and the effects of "servicisation", often referred to as power-by-the-hour, on access to data, product design, warehousing decisions, and the logistics surrounding replacement parts.
A panel discussion, featuring Arie Moruanx (Global Surgery Planning Excellence Director, Johnson & Johnson), Javier Tordable (Technical Director, Office of the CTO at Google Cloud), and Prof. Holger Voos ( Head of the Automatic Control Laboratory, SnT, University of Luxembourg) concluded the day with a debate on the impact of prevailing innovations, such as robotics, AI, 4D printing and more.
LCL Director Prof. Benny Mantin, who opened the conference with an overview of the LCL's activities since its inaugural eXplore conference in 2017, also provided research insights into the future of supply chain management and highlighted the importance of bringing the industry and academia together to jointly find solutions.
One of the LCL's efforts in this area includes its Master in Logistics and Supply Chain Management students, who prepare their thesis projects in collaboration with industry partners. Participants of the eXplore conference were able to discover the projects during a lunchtime poster session and discuss the work with the students. Find out more about becoming a partner of the LCL online.
Presentations and photos from the conference are available on explore.uni.lu