On 20 June, the University of Luxembourg  organised an informative training day about the new simulation equipment for gastrointestinal endoscopy. The event aimed at familiarizing participants with the intricate components of this state-of-the-art equipment and enabling its effective use for educational purposes.
Importance of gastrointestinal endoscopy training
Gastrointestinal endoscopy training holds immense value in the medical field, providing doctors with an opportunity to refine their technical and cognitive skills. Simulators have evolved from mechanical systems to advanced mechatronic devices and animal-based models. They now incorporate cutting-edge technologies such as artificial intelligence, augmented reality, and robotics, ensuring a realistic and immersive training experience. Simulation-based training has become increasingly significant, especially in the face of the pandemic and rising patient demands. It offers a risk-free environment for repetitive instruction, accelerating the acquisition of technical skills and improving procedural outcomes for novice endoscopists.
New collaboration with Klinikum Saarbrücken
In April 2023, the University of Luxembourg and Klinikum Saarbrücken signed a groundbreaking agreement to facilitate the training of specialised medical doctors in gastroenterology. On the one hand, doctors along with their interns from the Klinikum Saarbrücken will have access to the Simulation Unit at the University to enhance their proficiency in gastrointestinal endoscopy using the simulator. On the other hand, students from the Bachelor of Medicine will have the exceptional opportunity to join forces with the medical doctors and gain hands-on experience.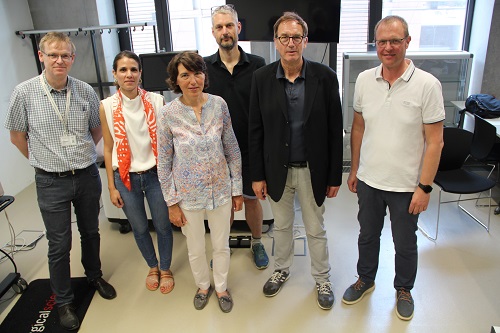 From left: Jochen Schneider, Maria Pavlou, Sybille Lehnen, Mark Mittag, Gilbert Massard and Klaus Radecke
"The success of this collaboration would not have been possible without the unwavering commitment of Dr. Christian Braun, Managing Director and Dr. Klaus Radecke, Chief of the endoscopy department from Klinikum Saarbrücken and the tremendous work done by Dr. Jochen Schneider, Professor and Dr. Maria Pavlou, Team Coordinator of the Medical Education. We are extremely delighted that our SimUL has become an integral part of continuous medical education and has paved the way for intercountry collaborative efforts in the Greater Region", comments Prof. Gilbert Massard, Director of Medical Education at the University of Luxembourg.