For the first time, the University of Luxembourg participated in the International Festival of Comic Books in Contern, taking place on 20-21 July 2019. Seven young scientists presented the science comics they had created previously within the DESCOM project (Doctoral Education in Science Communication)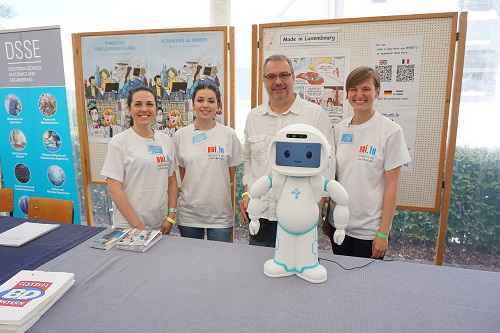 From left: Sònia Sabaté Soler, Isabel Rosety, Serge Haan, Nicole Paschek
The seven short comics inform about a variety of different research fields in Luxembourg and have been specifically produced for lay audiences. "I really like them, because they show the diversity of research at Luxembourg", said a student who visited the DESCOM stand at the 26th International Festival of Comic Books in Contern. "Also it's written that I understand it." The stand has also been visited by Sam Tanson, Minister for Culture and Minister for Housing, as well as Lex Delles, Minister for Small and Medium-Sized Enterprises and Minister for Tourism.
A special guest, the QT robot, attracted many visitors and was very popular – not only with children. The robot has been developed at the University of Luxembourg and is part of one of the comics. Thanks to the AI RoboLab of the Computer Science and Communications Research Unit (CSC), the visitors of the DESCOM stand were able to see the robot in real life and could even interact with it.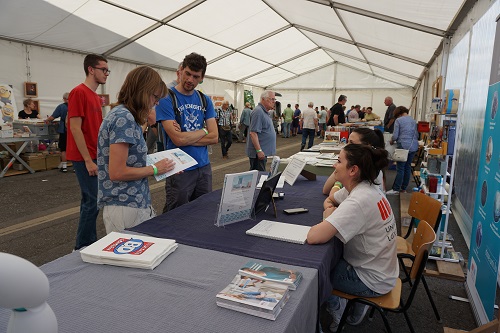 The idea to produce comics about science in Luxembourg came from Bruno Teheux, Scientist at the Mathematics Research Unit (RMATH). Together with the Doctoral School in Science and Engineering (DSSE), he was able to realize this project. At the end, 22 doctoral candidates from different research institutes, e.g. the Luxembourg Institute of Science and Technology (LIST) or the Luxembourg Institute of Health (LIH), have produced the comics in collaboration with many more people involved. To learn more about their motivation or about the development of the comics please visit this site.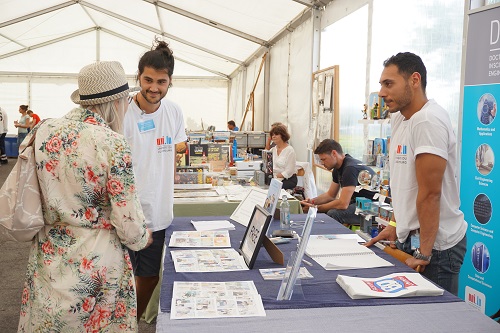 From left: Andrés Cano and Mohamad Sarmini
If you are interested in the comics, you can read a hard copy of them in the comic section of the Luxembourg Learning Centre (LLC) on the third floor, find it in various buildings on the Belval Campus or download the whole comic booklet here. If you are interested in receiving several hard copies of the comic, please contact the Project Manager of DESCOM, Nicole Paschek. Please note, that a German as well as a Luxembourgish version of the comics will be published until the end of the year.
DESCOM aims to support interactions between academia and the public by providing different modes of training in science communication for doctoral candidates. The project was launched in 2018 with the support of the Luxembourg National Research Fund (FNR) and the DSSE.