Finance Lunch Seminars
With the Lunch Seminar series, the Department of Finance is bringing eminent and up-and-coming researchers from around the world to Luxembourg. The seminar series receives funding from the National Research Fund (FNR) under the RESCOM scheme and has attracted scholars from leading universities in the world, including the University of Chicago, Northwestern University, Berkeley, London Business School, and more. Researchers presented on numerous topics, such as asset management, banking, household finance, real estate and financial econometrics.
Several scholars took the opportunity to visit the Department of Finance for a few days and teach graduate level classes, including Michael Weber (Chicago) and Johannes Stroebel (NYU). Our seminar series attracted attendees from many institutions such as numerous banks and other financial companies, the European Investment Bank, the Central Bank of Luxembourg, other research institutes, and from other departments of the University of Luxembourg.
We look forward to welcoming speakers and participants to the next seminar series, which promises to be equally exciting with, once again, speakers from all over the globe.
Our Finance Lunch seminars usually take place Thursday during lunchtime (12:15 to 13:30). Want to receive invitations to our events? Please register here to be added to our mailing list ( European data protection law ).
UPDATE 16.02.2023: The following speakers have confirmed their participation. Please save the dates and register to our mailing list to stay up to date on the upcoming seminars.
09-Mar – Irem Demirci (Nova School of Business and Economics)
16-Mar – Gyöngyi Lóránth (University of Vienna)
23-Mar – Alexandre Corhay (University of Toronto)
27-Apr – Claudia Custodio (Imperial college London)
04-May – Federico Bandi (Johns Hopkins University)
11-May – Mikhail Chernov (University of California)
16-May – Ostap Okhrin (Technische Universität Dresden)
06-Jun – Anna Cieslak (Duke University)
15-Jun – Juan F. Imbet Jimenez (Université Paris Dauphine)
05-Jul – Caroline Flammer (Columbia University)
05-Oct – Vladimir Asriyan (CREI & BSE)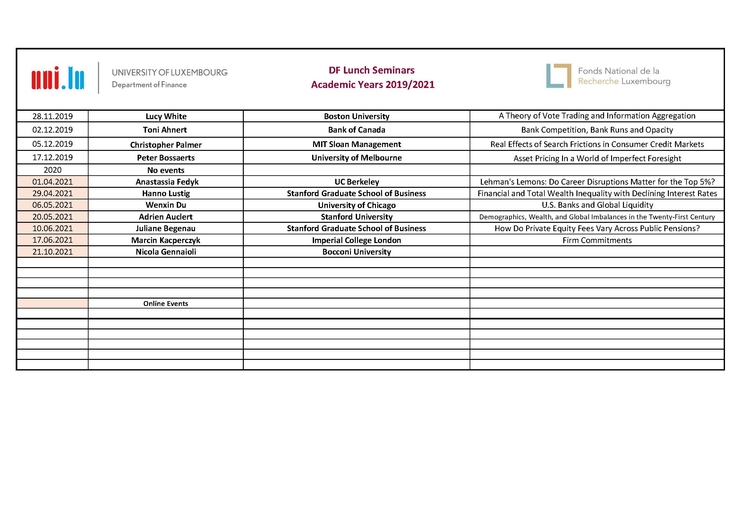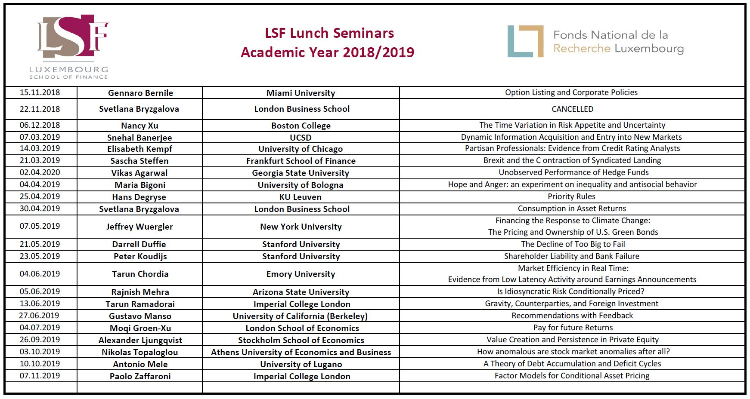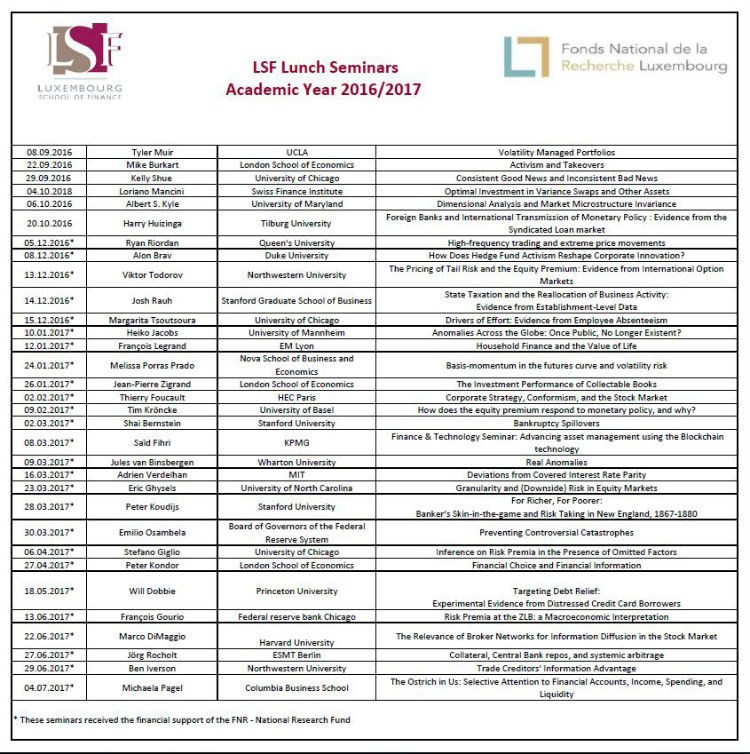 ESM-Uni.lu Seminars
The European Stability Mechanism (ESM) and the Department of Finance organize a joint seminar series since 2019. The ESM is the permanent stability mechanism of the euro area and provides, where needed, financial assistance to euro area Member States. The ESM and the Department of Finance have developed many shared topics of interest in the field of macro-finance and financial economics. The goal of this seminar series is to invite prominent researchers in those fields to present their work in Luxembourg and to meet local researchers. The seminars are held over lunchtime and are open to the public. The location alternates between the ESM and the Department of Finance.
To be informed about upcoming seminars, please sign up here . Note: For organisational purposes, your registration information (name and affiliation) will be shared between the ESM and the Department of Finance. The Department of Finance will not share your contact information with any other third party. You may unsubscribe from our list on th ebottom of any our emails or by sending an e-mail to esm_df_seminars@uni.lu .